Got questions? Below are a list of our most frequently asked questions, but if you don't find what you're looking for, feel free to get in touch!
Download our Travel Smart Checklist
Essential information you need to travel safely during the COVID-19
pandemic – including destination ratings, flight bookings, and tests.
SCARICA LE NOSTRE BROCHURE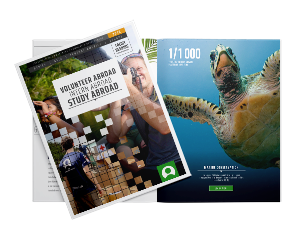 What does my program fee cover?
Your program fee will cover your pre-departure support and materials, food, accommodation, training and orientation, long-term GVI field staff, 24-hour in-country support, and project equipment and materials. Not to mention the unforgettable, off-the-beaten track, life changing experiences!
[top]
I can't seem to decide which project I would like to join, can I chat with someone to get more information?
Absolutely! Our team of Country Experts are here to answer any and every question you have about our programs. Our Country Experts are ex-GVI participants so we know all about the life changing experiences you can expect while taking part in a GVI program.
[top]
Do I need any experience or qualifications?
No, our trained field team will provide you with all of the training you need when you join your project. Some of our diving programs do require participants to be PADI Open Water certified prior to joining, please contact your Enrolment Manager for more information.
[top]
Is there any age limit??
No, there is no age limit to join our projects and in fact, our oldest participants to date was 80! Our projects do have a minimum age of 18, with the exception of our Under 18s projects that are specifically designed for 15-17 year olds and our family programs for 14+ when accompanied by a guardian.
[top]
How can I apply for a scholarship or financial aid?
Unfortunately, financial aid is not available as our program fees provide vital funding to our projects; however, scholarships may be available for high performing participants in the field to stay on their program for a longer duration at no additional charge. Scholarships are given at the sole discretion of GVI.
[top]
I would like to participate in a project in my home country; do I still need to pay?
Pay? GVI does have a National Scholars Program for Nationals in the countries we work to join GVI projects to receive training at little to no cost. Our National Scholars Program is very competitive and interested candidates will need to submit a CV and cover letter outlining their suitability to be considered for the Program.
[top]
I am not from the UK. Can I still apply?
Yes. We accept many international participants every year. GVI field staff are fully trained to guide you through the reservation process and can help advise on any special visa and travel requirements. Although we try to meet with potential participants before the start of the expedition you will find the GVI pre-program support package sufficient in providing you with all the information you need.
[top]
How far in advance should I book?
Expeditions are normally booked up 8-12 months in advance while projects tend to have more availability. Contact us to check availability for any program that interests you!
[top]
Can I come with friends or as a couple?
Yes. Couples and friends are welcome, dependent on availability and the size of the group. Please be aware that we cannot always guarantee private accommodation. So far we have had four weddings resulting from our expeditions!
[top]
Do I need to have experience?
No experience is required for expeditions. Most projects do not require experience either. Those positions that do require certain skills or experience have these details listed on their respective program pages under Skills Required. Where required we provide full training and supervision. All we ask is for you to keep an open mind and bring passion and enthusiasm.
[top]
Is there a selection process?
Yes, a completed application form is required for all expeditions and projects. This is essential for your safety and enjoyment as well as the projects ultimate success. You will receive a call to discuss your eligibility for the program you have applied for from one of our dedicated advisors.
[top]
Can I travel before/after?
Yes, you can!* Many participants arrive early to start exploring or join a GVI expedition / project half way through a longer trip round the world. A GVI expedition / project offers participants the chance to slowly acclimatise before you head off alone in a new country, as well introducing you to a large group of potential travelling companions. We are happy to assist post project travellers with insurance policy alterations as well as flight arrangements. We can arrange your placement wherever you are in the world!
*Please note that due to immigration regulations, it is not possible to travel before or after your GVI program in some locations.
[top]
How old are GVI participants?
The minimum age is 18, and there is no maximum. If you are age 15-17, please visit GVI Foundations to learn about programs designed for your age group. We are happy to talk through the ages of those booked on to the expedition, internship or project you are interested in, just give us a call!
[top]
How do I know you are reputable?
GVI is one of the most well respected and prominent international sustainable development organisations. Our programs have been featured in various international newspapers and magazines, including The Times, The Independent, The Guardian, the Geographical magazine, BBC Wildlife magazine and various international television programs including a six part series on the Sky Travel channel and a feature on the BBC Holiday program. We work with some of the most prominent organisations in the field including Rainforest Concern, The Endangered Wildlife Trust, and the South African National Parks. Since 1997, we have sent more than 3,000 participants away each year for enjoyable and fulfilling experiences. In 2011, we were announced as "Best Volunteering Organisation" at the Virgin Holidays Responsible Tourism Awards. You can also meet us and our network of ex-participants at any event we attend throughout the UK, as well as listen in to webinars hosted by our dedicated field staff.
[top]
How much does it cost?
Program fees vary between projects and expeditions and are dependent upon our partners' requirements, requests and geographical locations. View individual program home pages for specific information on dates, program fees and what is included.
[top]
Are there any extra costs?
This is dependent upon your chosen program. Expeditions, projects and internships include all your food, accommodation, training, project equipment and global support unless stated otherwise (see your specific program page for more detailed information). The only extra money you will need is a small amount for spending money. As a rough estimate we recommend around US$250 a month for spending money on all our programs.
[top]
How can I pay?
Payments for GVI programmes are made in full at the time of booking, or in instalments until 12 weeks before the start date of your program. Our team will be happy to talk through the options with you.
[top]
Can I fundraise?
Yes, with prior planning and hard work you can raise all the money for your expedition or project. Get in touch with us for more information on fundraising advice!
[top]
Can you arrange my flights?
We recommend consulting the various flight comparison and airline direct web pages online to get the best possible flight price to your chosen GVI program destination.
[top]
Do I need insurance?
Absolutely, this is an essential part of joining an expedition, project or internship. You will not be allowed to join unless you have fully comprehensive insurance. Information on insurance is contained within your field manual which we will send you upon receipt of your application form and payment.
[top]
Do I need a Visa?
This depends on your country of origin and the location of your project, expedition or internship. The GVI field manual contains further information on Visa requirements for each specific location.
[top]
Will I be met at the airport?
On most programs you will be met by a GVI representative at the airport if you arrive on specific dates prior to the program start date. Please ask our dedicated advisors to explain the arrival logistics if you have any further questions.
[top]
What support and guidance can I expect?
The very best! We pride ourselves on our local knowledge and network of enthusiastic and well informed staff and representatives. On our expeditions and projects you will be working directly alongside full time GVI staff with the experience and skills to make your expedition fun and fulfilling. Our partner projects are chosen for their commitment to the projects and to you as a participant. We provide you with regular updates before departure and we are always there at the end of the phone or via email throughout and after your trip.
[top]
What is the accommodation like?
Accommodation will often, though not always, be more basic than what you would expect on a tourist holiday or guided tour and are often shared with your fellow participants. For detailed information on accommodation check the program homepages or contact your nearest office.
[top]
What is the food like?
The food will be nutritious and healthy throughout your stay. Most locations will serve vegetarian meals, utilizing locally sourced produce.
[top]
What happens if I have special dietary requirements?
Most of our locations can provide for special dietary requirements. However, if you have any specific concerns we would encourage you to contact your nearest GVI office to discuss.
[top]
Do I need to be physically fit?
Most locations require a moderate level of fitness especially if you want to get the full amount out of your time there. If high levels of fitness are required this is highlighted on the program homepage.
[top]
Will I have any free time?
This depends on your chosen program. We always try to allow weekends off to explore surrounding environments and to make trips to other locations however, there are some exceptions to this where the requirements of our project partners dictate otherwise.
[top]
How does GVI make sure I am safe while I am in the field?
The health and safety of all GVI participants is paramount. In view of this, GVI has compiled strict systems and procedures, including the presence of long term staff on the ground who work closely with local partners to ensure they are up to date with local developments. We periodically review risk assessments for each location and project, and have emergency actions plans in place for a variety of scenarios, protocols for incident and near miss reporting, and weekly reporting to senior GVI managers to ensure we always up to date with local and regional developments. All our participants and staff receive a full orientation, always have permission to decline to participate if they feel unsafe, and have access to a 24-hour emergency support system, including senior experienced staff on standby both in country and regionally in case of incident or concern. GVI programs also all host regular health and safety meetings to review incidents, near misses and concerns, on top of the standard briefings and edit procedures if necessary.
[top]
What happens if there is an emergency?
GVI staff and field representatives are fully trained to deal with any type of emergency and all our projects are linked with GVI staff in the UK 24-hours a day. In case of an emergency we would link up with field members to arrange local medical treatment or air evacuation.
[top]
Are there any medical restrictions?
All participants will need a sign off on any disclosed medical conditions from a qualified GP/Doctor and admission to your chosen program is subject to consideration of all medical conditions so we can ensure the safety of all participants. Marine projects may require a ping medical assessment as well. Exclusion from one option for medical reasons does not necessarily prevent participation on all of our programs. Our professional advisors will always be able and happy to help you find the most suitable program.
[top]
Can I get a job with GVI?
Occasionally field positions do arise for new projects and expeditions as well as within the GVI office network. Please visit GVI Careers Abroad for all current job listings.
[top]
How do I apply to be a partner of GVI and to receive participants?
Please send a brief description of your requirements and project aims and objectives to info@gviworld.com. A GVI member of staff will then be in touch to discuss your application.
[top]