What is a Field Guide?
Being a Field Guide is largely about guiding and interacting with people from all over the world, sharing information and interpreting the wildlife conservation sector, whilst keeping ethical practices in mind at all times. A Professional Field Guide also specialises in aspects like 4x4 driving, understanding animal behaviour and tracking, as well as studying the environment in order to grow the conservation sector. In many cases, Field Guides assist Game Rangers with their tasks, to help maintain natural environments and to provide additional support.
Why Choose a Career as a Field Guide?
Choosing a career as a field guide provides you with the perfect opportunity to trade a traditional nine-to-five for an "office with a view" in the African bush. Your hours will be flexible, and you will experience a lifestyle that is unlike anything corporate. If you have an interest in wildlife, you love exploration and adventure, and you want a career related to these passions, then pursuing a career as a field guide is the way to go.
Why train with GVI & Bushwise?
Between 2012 & 2018, our students' results have been the highest compared to other long term training providers in the area. Over 90% of our students passed their FGASA level 1 exam, which is unprecedented in any industry. Our graduates are highly sought after by leading South African employers (Molo Molo, Londolozi and Senalala are but a few on the list), especially as we recently won the "Top Rated Internship Program" at the 2017 GoAbroad Awards.
Bushwise is now providing an industry first, by offering all FGASA Field Guide Course graduates who have completed their placement, a complimentary job recruitment benefit to help jumpstart their careers. Bushwise Recruitment provides candidates with the opportunity to be directly appointed to a permanent job in the industry as soon as they have completed their training, at one of the many partner lodges we have built and maintained a solid relationship with since 2006.
GVI presents FGASA accredited programs on the Mahlahla campus at Bushwise Field Guides, in Limpopo, South Africa. The FGASA Professional Field Guide Course runs for 23 weeks, with an optional six month work placement, along with a job offer guarantee for South African students.
The course was created to develop students into highly skilled professionals in the area of field guiding, conservation, research, adventure tourism or lodge management, by providing a well-rounded, specialised education which focuses on the theoretical and practical aspects of wildlife conservation and guiding. The curriculum also includes practical application of subjects such as conservation, ecology, reserve management, geology and animal behaviour.
GVI's sister company, Bushwise, is a Field Guide College in the heart of South Africa's bushveld. Bushwise is an accredited FGASA training provider with the highest success rate in passing the FGASA exams, and also securing field guiding jobs post-internship.
Bushwise's Story
Co-founder Sophie Newman joined GVI in its infancy, where she set up and ran the GVI Karongwe Wildlife Expedition. Back then, GVI consisted only of Sophie in the field and the founder of GVI, Richard Walton, who manned the office in the UK. As GVI grew Sophie went on to set up and run wildlife and community conservation programs across Africa. These included predator projects in Venetia, South Africa, community and marine conservation programs in Kenya, and SANParks internship programs, to name a few.
During her 8 years as a Regional Director for GVI, she found it a constant battle to find staff with the qualifications, skills, and ethical professionalism GVI required. There was clearly a great need to assist young passionate conservationists and wildlife enthusiasts in getting these skills and qualifications to start their career. So, Richard and Sophie embarked on setting up Bushwise Field Guides. The vision was to develop a high quality, all-inclusive training course, which offered a platform for students to gain all the relevant qualifications, practical experience and importantly, develop the professional ethics and soft skills.
Bushwise ran its first course back in 2006 at Mahlahla campus, and looking back to the early days, Bushwise's ethos and vision has remained the same, but the program has evolved tremendously. Over the years we have focused all our attention on the long-term courses, which provides the best platform to gain the quantity and quality of knowledge and skills needed. We work closely with the lodges to develop and tweak the program as the industry changes. This ensures our students get the necessary experience to benefit not just their employment but also adhere to the lodges' standards. We have added numerous qualifications, fine-tuned the training, refined our soft skills development, and built an exceptional Bushwise team.
We will continue to work proactively with the lodges in this ever-changing industry, to ensure our Bushwise course is the most relevant and of the highest standard. We also guarantee that our graduates are of the highest standard possible. Not only do we have a lasting relationship with our alumni, but Bushwise plans to develop additional courses and programs to build on their skills, and further their careers.
Our Videos & Testimonials
SCARICA LE NOSTRE BROCHURE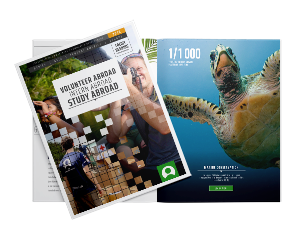 Our Programs in Field Guiding