GVI is a parent-run organization and family is at the heart of what we do. Respect and trust are two of our core values, but that doesn't mean we forget about fun. While we're incredibly serious about child protection, health and safety, and increasing the long-term career benefits of our programs, we also care about making learning more engaging.
After over two decades of experience, we have discovered that if you give young people age-appropriate challenges along with the accompanying support, they quickly start to forge a path that is uniquely their own. Not only does this help them with choosing a career that is personally fulfilling, but living a life aligned to the well-being of our planet and global community.
Download our Travel Smart Checklist
Essential information you need to travel safely during the COVID-19
pandemic – including destination ratings, flight bookings, and tests.
SCARICA LE NOSTRE BROCHURE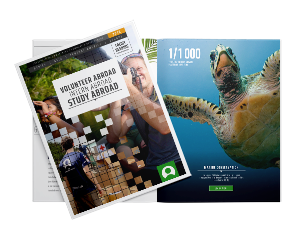 SERIOUS ABOUT H&S
GVI is compliant with British Standard 8848, a set best practice standards for adventure expedition providers outside the United Kingdom. We require all field staff to complete health and safety training. This includes learning how to conduct in-depth risk audits and on-the-spot risk assessments as well as developing, updating, and acting on Emergency Action and Crisis Management Plans.
ALL OUR OWN STAFF
All of GVI's programs on the ground are run by staff recruited, vetted, and managed by us. Each has passed a Police Check and is also Emergency First Response Certified. Many are also Emergency First Response Instructors. A minimum of one staff member is assigned to a group of six participants although the ratio is often as high as one staff member to three participants.
MEET A GVI PARENT
Many parents of GVI Alumni become enthusiastic GVI ambassadors, often joining one of our programs themselves after their child returns home. If you'd like to speak to one of these incredibly inspiring individuals and learn more about their experience let us know and, depending on your location, we can arrange for you to meet up or set up a phone call or online chat.
FLIGHTS & ARRIVALS
If you would like your teen to fly with a chaperone, simply request to book one. For those traveling to certain GVI locations, we also set up a Whatsapp group to help staff manage airport arrivals effectively. Once a participant arrives at the airport, a GVI staff member will be there to take them to their accommodation. Afterward, guardians will receive a safe arrivals email.
'This is a very belated thank you to you all at GVI, who recently hosted my son, Joss Cary when he joined the 16-to-18-year-old program in Playa del Carmen and Tulum. In his own words, he had the best day of his life, when he swam with whale sharks. As he's swum with whale sharks before, it must have been good. He enjoyed it all, the cooking, bonding, and diving. He has already been in contact with his GVI friends here in London and will be visiting one of them for Christmas this year. You opened up a whole new world. He hopes to return next year to maybe do the intern course for a month if he's old enough. He's told his friends and teachers at school, as have I, and, hopefully, you'll see more boys coming along as a result. He was very happy with all the care you provided and felt safe and that everything was well-organized, which was a particular concern for me as a parent who was so far away, as you will appreciate. Thank you from all of us.'
Pippa Bowler
'Just wanted to say a big thank you to you and the team. I collected Katherine at six last night and she talked virtually non stop throughout four-hour drive home. All news was extremely positive about her amazing adventure with you. Thank you all again. You are amazing people.'
Neil Owen
'I would just like to say a very big thank you to you and your team. Steph had a great two weeks and has arrived home safe and sound. The professional nature of your team has been exceptional and as parents, we really appreciate the care you have taken. It is a big thing to travel so far on your own. However, with GVI's help and support, it has been a trip of a lifetime full of good memories. I hope she will get the chance to travel with GVI again.'
Chris Herritage
'If only every student could do this. It changes your life in all the right ways.'
Gill And Brian Williams
'Kayley first introduced the concept of charitable work abroad to us after having investigated various charitable travel opportunities on the internet and chose GVI due to the comprehensive opportunities being promoted. Our initial feeling was of uncertainty due to organizational viability and risk to welfare; our immediate reaction was the ability of an organization to effectively arrange and deliver such a complex project. We were soon reassured through the efficient and effective communication with GVI staff members who were able to competently answer all the questions that we posed. The information provided was clear and concise; the links to essential information were relevant and useful.
Probably the most difficult decision was making the initial commitment, however, as time progressed we became more confident that the project would be successful. As Kayley is mature and responsible we decided that no specific ground rules needed to be set, we were
more concerned about overcoming her anxiety of travel. This was the first time she traveled without us and we were all very concerned. GVI was able to put us in touch with some of the other volunteers on the project prior to the project dates, this allowed Kayley to establish contact with other girls with similar ambition; this helped enormously. Kayley and another girl arranged to travel together on the same flight so the fact that she was traveling with someone else helped significantly. This was the longest time we were apart from Kayley, but social media permitted us to stay in constant communication. The segregation was not concerning knowing that she was safe and having a great time.
It was a fantastic journey for her; as a consequence, she can confidently provide informed opinions whenever needed. She returned with a detailed account and a balanced view of the situations in South Africa, which was refreshing and something she will never forget. She intends to spread the word and continue supporting GVI due to the invaluable productive work they are doing throughout several countries. Often parents have difficulty managing changing attitudes, ambition and vision of children during teen years. The GVI project brought all this together through an experience showing that teenagers can adapt and use their initiative when immersed in diverse environments. We would without a doubt recommend GVI as an organization.'
Jackie Null
'We just happened upon GVI last spring with Evan's quest to find a Thailand service trip on the beach. You should spread the word to our schools here in the States. You are a hidden gem that most don't know about.'
Linda Jeffrey
'Sam first found out about GVI when my husband challenged him about doing something worthwhile with his life in the summer. As he was only 15 years old, I was calm initially, thinking that nothing would come of it. Sam began some research and found that GVI was the only company who would take him because of his age. At first, I was concerned that GVI was a scam and even as the process continued, I remained unconvinced that it was a good idea. I had huge concerns because of Sam's age; the fact that he would be unaccompanied and had never been abroad before! I remained deeply concerned up until the moment Sam left to go on the project. Indeed, the weeks before were extremely difficult as I woke up in the middle of the night terrified that I had done the wrong thing in allowing this situation to develop. Contact with GVI in the run-up to the trip helped a little as did a group chat between myself and other mums, but I was not relaxed at all.
As Sam was young and had never traveled alone, he flew as an unaccompanied minor. This helped alleviate some of my fears that he or his luggage would become lost in transit.
The day Sam left was difficult, but modern technology enabled us to communicate throughout his journey. Once he arrived in Thailand he was met by a GVI intern and from that point, I felt more relaxed and excited about the adventure he was undertaking. Sam was supervised carefully throughout his time away and the trip was planned in detail to ensure those participating returned with wonderful memories of time spent in a worthwhile project as well as some sightseeing. He has made lasting friendships and had a life-changing experience. He returned from Thailand more mature, more appreciative and more aware of the beautiful world in which we live.
This year, Sam is traveling to South Africa with GVI and I am confident and excited about this new adventure. I know that he is in safe and caring hands with GVI and I am thrilled that he is going to experience this amazing continent, within the safe environment of a GVI trip. I would not hesitate to recommend GVI to other families.'
Live Updates From All Our Locations Around The World
Each of our locations worldwide has their own Facebook pages where they share their latest impact stories. If your child books onto a GVI program you can follow their progress by keeping an eye on their location's Facebook page.