MARINE CONSERVATION VOLUNTEERING
Volunteer in marine conservation
As a marine conservation volunteer with GVI you'll find yourself in some of the world's most sought-after seaside locations. Palm tree-lined beaches with sun-kissed sands are the backdrop of our marine conservation programs abroad, and many of these destinations have tropical climates where you can experience warm weather all year round.
But it's the array of marine life and the importance of these ocean ecosystems that really make these locations tops for marine conservation volunteering.
Take for instance the mother loggerhead sea turtle who travels for thousands of miles to lay her eggs on the same beach where she hatched from her egg many years ago. Well, you could contribute to the conservation of this marine species by getting involved in sea turtle conservation in Greece.
And although over 200,000 ocean species have already been classified, as many as two million more are still unknown. With oceans being the largest ecosystem on Earth, they offer ample opportunity to contribute towards marine conservation efforts all over the world.
Why volunteer in marine conservation with GVI?
With so much ocean all around us, it can be overwhelming thinking about where to begin with marine conservation. But there's a way to get involved that sustainably builds on marine conservation efforts worldwide.
GVI's marine conservation programs contribute towards the United Nations Sustainable Development Goal (UN SDG) 14: Life Below Water. By linking our efforts to the most relevant global issues and working together with local communities, GVI is able to offer you a meaningful experience where you can make a significant and sustainable contribution.
We fulfill this promise by focusing our programs on conserving marine resources: the flora, fauna and natural environments found in the ocean. You could cool down in the waters of Fiji while getting involved in a climate change and coral bleaching program. Or experience a beach in Thailand while clearing the area of plastic pollution. No matter which program you choose, prepare to be part of a team that's making a positive impact globally.
In addition to this, GVI's marine conservation programs promise you support before, during and after your volunteer experience, as well as ample opportunity to improve your employability while you volunteer abroad.
How can I get involved in marine conservation volunteering with GVI?
Marine conservation volunteers can make an impact on the land, in the sea, and where the two meet by contributing to marine conservation programs focused on:
environmental marine conservation

marine conservation research

facilitating marine conservation education sessions with school-children and local communities

contributing to island conservation efforts.
Since our programs look to make a sustainable and long-term impact in marine conservation efforts, they ensure we contribute to marine conservation in a meaningful way.
Why is marine conservation volunteering important?
Marine conservation is important for many reasons. The ocean is the largest ecosystem on Earth, and it interacts with every continent. Land and sea meet along the 620,000 kilometres that make up the world's coastline, and this is also where human activities have had the biggest impact on marine environments.
Over time, the amount of pollution in coastal waters has grown significantly. Add to this the overdevelopment of coastlines, and overfishing in these areas, and it becomes clear that the ocean is facing many challenges.
Every marine environment is affected, and more and more marine flora and fauna are at risk of extinction each year. Since human activity is the main cause of this, adapting our activities can go a long way in improving the well-being of marine environments. And when we contribute towards efforts that make a positive impact in the ocean, life on land also stands to benefit.
The air we breathe wouldn't be the same without the ocean. The millions of microscopic algae and thousands of species of seaweed found here provide half of the oxygen that human beings need to survive.
Oceans also contain 97% of the world's water, decrease the impact of climate change by removing carbon dioxide from the air, and provide a significant amount of people's dietary protein – from fish, shellfish and even seaweed.
These benefits of the ocean are something that the world can't do without. With the effects of climate change steadily increasing, concern for marine environments is growing every year.
Marine conservation volunteering means that you can get involved in impactful, and sustainable marine conservation projects all over the world, and contribute towards making an impact in our oceans.
Where can I volunteer in marine conservation?
Fiji is made up of 333 islands scattered throughout the South Pacific Ocean. The Pacific Ocean is the largest and deepest of all the oceans on Earth, and the waters around Fiji are home to over 1,500 species of sea life – including the peacock mantis shrimp, masked butterfly fish and humpback whale.
This is one of the best destinations to travel to if you want to get a real feel for island life, while seeing first-hand how climate change can affect island communities.
GVI's marine conservation programs take place on the island of Caqalai. This is a tiny island where a 15-minute walk around the palm tree-lined perimetre will give you a glimpse of the vast coral reef found off of the island's sandy coastline.
Mexico's ocean waters are home to the second-largest coral reef system in the world, located in the National Reef Park of Puerto Morelos. The Mesoamerican Barrier Reef System is mere metres away from GVI's base on the coastline of Puerto Morelos.
This mass of coral reef provides the perfect habitat for many different types of marine life – like the spotted dolphin, rainbow parrotfish and orca. It's also a very important marine resource that supports marine life, protects the coastline, and offers employment opportunities to local communities.
By volunteering in marine conservation in Mexico, you'll be part of the team working towards the conservation of the reef. See more of Puerto Morelos than you'd ever imagined when you dive beneath the waves while taking part in reef surveys with Professional Association of Diving Instructors (PADI) trained professionals.
You're bound to see a wide array of sea life while snorkelling or diving in this marine hotspot along the Riviera Maya.
Phang Nga is a coastal province of Thailand. Here you can dip your toes into the Andaman Sea while taking in the tropical climate. Phang Nga Bay is a popular travel destination because of its rich variety of marine life and natural attractions.
This backdrop has everything you'd look for in a top travel destination, and our marine conservation projects in Phang Nga contribute towards keeping it that way. The village of Ban Nam Khem houses GVI's base, and here you'll be taken through orientation and get ready to start volunteering.
Ban Nam Khem is also where you'll find the Ban Nam Khem Tsunami Memorial Park, a reminder of the impact the 2004 tsunami had on the area. Since some of the effects of the tsunami on the community are still apparent in Ban Nam Khem, this is the perfect place to get involved in volunteering, and help the local community in maintaining Phang Nga's marine ecosystem.
Marine conservation volunteer programs in Seychelles take you away from the mainland, and get you contributing to conservation efforts while soaking up an island experience in an archipelago.
Marine conservation volunteers will be struck by a landscape peppered with granite mountains. These stand sturdily between green foliage that spills over the surface of the island.
Mahe is the largest of the 115 islands making up Seychelles. It's one of a cluster of islands on the inside of the archipelago that are the remnants of a submerged mountain range.
Since Mahe is surrounded by other islands, the ocean tides interact with its shores more gently than it does with islands on the outskirts. This has made Mahe the perfect place for large coral reefs to settle into the seabed. This sheltered marine environment is also where many different types of marine life prefer to dwell.
By taking part in a marine conservation program in Seychelles, volunteers will go beneath the surface of the sea and gather important information about Mahe's fish life, invertebrates and coral reefs. This information is shared with the local government and provides insight into the effects of marine conservation efforts in the area.
Types of marine conservation programs
Marine conservation projects are set in some of the top-travel destinations abroad. But seeing these seaside areas scattered with plastic would be enough to make any volunteer kick into cleanup mode. That's without even picturing the effects that this pollution has once it enters marine ecosystems.
Plastic pollution has a major effect on marine life. Besides the physical harm done when marine animals ingest or get caught up in plastic. Plastic pollution can also make sea water more acidic, and have a long-term toxic effect on ocean environments.
By lending local communities a hand in clearing beaches and sea water of plastic, volunteers can contribute towards the well-being of marine life in locations like Fiji and Thailand.
As part of plastic pollution programs, volunteers also assist with marine conservation education, which raises awareness of the factors that affect marine ecosystems and promotes community-led climate action. This can have a positive impact on how local communities interact with the ocean, promote recycling, and encourage other environmentally-friendly efforts.
Research is the foundation of marine conservation efforts. Without it we wouldn't know where to start, and whether or not our efforts are actually making a positive impact.
Many of GVI's marine conservation programs focus on monitoring marine animals, coral reefs, or mangrove forests. This data is regularly analysed, compiled and reported on, and goes a long way in assisting local communities and international bodies involved with marine conservation. It gives a valuable indication about the well-being of marine ecosystems in different areas of the world, and how further action can be taken to safeguard them.
On a marine conservation research program, you'll learn biological survey techniques that will get you closer to a career in marine conservation. No matter what your marine conservation aspirations, you can be sure that your contribution will have a positive impact on the well-being of life in our oceans.
If you're concerned about how climate change is affecting our oceans, and want to be a part of efforts addressing this, GVI's climate change marine conservation programs are perfect for you.
These marine conservation programs focus on monitoring how climate change is affecting marine life like coral reefs, in locations like Seychelles and Fiji. These types of programs are important because they assist in keeping the local and global communities up to date on how climate change is having an impact.
The data collected on these programs also help us to understand what types of marine conservation projects are needed in specific areas. This ensures that marine conservation efforts are effective and relevant to the local context.
Since marine animals are a key component of any marine ecosystem, it's important to contribute towards the well-being of these creatures. GVI offers marine conservation projects aimed at caring for endangered animal species – like green sea turtles – and ethically contributing towards their well-being.
This may mean working in turtle rehabilitation centres in Thailand, where you'll assist local staff in keeping the turtles and their environment clean and healthy. You could also take part in programs that contribute towards the protection of loggerhead turtle eggs on the Greecian coastline.
These programs take a sustainable approach to marine conservation. This means that all of our marine conservation efforts contribute towards long-term marine conservation goals, and that local communities can continue with these efforts even if volunteers aren't around.
Volunteer and become PADI certified on a GVI marine conservation course
Since marine conservation efforts also depend on work that takes place below the surface of the sea, the majority of GVI's marine conservation programs offer volunteers the opportunity to become certified with the Professional Divers Association of Diving Instructors (PADI).
There are a host of PADI diving courses built into various GVI marine conservation programs. Slip into your diving career under the guidance of GVI's PADI trained professionals. Crack open your scuba-diving career with your PADI Open Water Diver certification, and go from dive training in a pool to observing a school of fish in the underwater world in Fiji.
And once you've explored the surface, why not take on your PADI Advanced Open Water Diver certification and get to journey deep into the underwater world of Mexico's ocean while conducting coral reef surveys? You could even land your PADI Coral Reef Researcher Distinctive Specialty certification, a step in the right direction towards a career in marine conservation.
Marine conservation programs abroad are the perfect opportunity to set yourself up for a career in diving, or even to just gain valuable experience in diving. You could also get your PADI Divemaster certification while working in marine conservation on Mahe island in Seychelles or the province of Phang Nga in Thailand.
FAQs about volunteering in marine conservation
Q: Do I have to be able to dive if I want to take part in a marine conservation program with GVI?
A: No, many of GVI's marine conservation programs do not require participants to have any previous diving experience. However, there are specific programs where participants are required to have at least their PADI Open Water Diver certification. This will be specified in the program overview on the GVI website. Before you sign up for a marine conservation program, find out if the program you are interested in has any diving certifications as a prerequisite.
Q: What are ethical animal interactions?
A: Ethical interactions between humans and animals only take place when entirely necessary (where a health check is required, for example). These interactions should be done in a way that does not allow for wild animals to become dependent on human interactions.
Many animal species are significantly impacted by climate change and the human activities that affect their well-being (like overfishing and chemical spills in the ocean). This has made it necessary for some marine conservation efforts to include animal interactions.
Any volunteer organisation offering animal care programs should have guidelines in place that ensure that all interactions with animals are ethical and only done when strictly necessary. See GVI's stance on animal interactions here.
SCARICA LE NOSTRE BROCHURE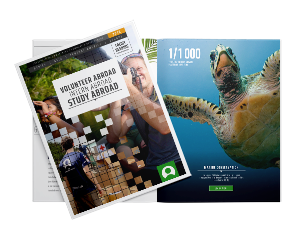 Are all types of animal volunteering programs ethical? No. Read this article for advice on how to spot ethical organisations [...]
Volunteer holidays for families can make your time abroad much more meaningful. Read this article for family volunteering [...]
While a known passion for protecting our environment is good grounds to start on it can be difficult to figure out what exact [...]