Volunteer in Africa
Picture Africa. You've probably pulled up images of sun-baked deserts, grassy plains, and large animals lounging in pools of sun. Yes, volunteer work in Africa offers you ample opportunity to experience all of this, but in reality, there's so much more to the African continent.
Volunteer in Africa and you could see first-hand how rainforests creep out in every direction on the islands of Seychelles, where the year-round rainfall is high. You might also see how fresh greenery springs up around fertile river banks in Ghana when the rainy season arrives, or how some of the cities pressed up against the coastline of South Africa experience the hot-dry summers and cool-wet winters typical of a Mediterranean climate.
Volunteer work in Africa offers many opportunities to contribute towards the United Nations Sustainable Development Goals (UN SDGs) in a meaningful way. This means you'll be a part of positive global change while experiencing the countries and cultures of Africa like never before.
Some of the best-known animals in the world come from Africa. Think about the world's fastest land animal, the cheetah. How about the world's largest mammal, the African elephant? Volunteering in Africa can take you on an adventure to the places that these creatures call home, where you can work on their conservation.
Volunteer work can also get you up close and personal with some of the most sought-after natural attractions in the world. You could find yourself taking in the flat top of Table Mountain, while gliding up to its summit in a cable car. Table Mountain is the only wonder of nature located in an urban area. This means that while volunteering in Africa you could get involved in community development with a world-renowned mountain as a backdrop.
Types of volunteer work in Africa
In Africa, volunteer work can take you to regions in Ghana, Seychelles or South Africa. Here, you can contribute towards achieving the UN SDGs by participating in programs focused on:
These volunteer programs in Africa are community-led. This means that volunteers work with the local community on projects requested by the local community. In this way, volunteer projects in Africa support the people of Africa in addressing global issues in a sustainable way.
As a continent, Africa has the second largest population in the world. In spite of that, many African countries have a history of making their resources go further. Volunteer projects in Africa will get you working closely with local communities and learning from them. This is an opportunity to find out about Africa from those who live there, and experience the wide variety of countries and cultures that make up the African population.
Why volunteer in Africa?
If you're excited about getting involved in volunteer work in a multi-cultural environment surrounded by towering mountain peaks and stretching beaches, Africa offers you all this and more.
If you want to experience some of the world's most well-known wildlife, and learn wildlife conservation from the best in the field, volunteer work in Africa can get you to where the action is. If you want to find out about Africa for yourself through voluntary work, Africa offers ample opportunity to do so.
Africa is a continent that is still sorting through the impact of its history. Despite this continent's abundance of resources, it remains one of the least developed in economies and infrastructure. By volunteering abroad in Africa, you can contribute towards a positive impact in a meaningful way, and support people in Africa as they develop and implement sustainable solutions.
Many African countries experience extreme weather conditions like droughts and floods. This continent is also one of the most impacted by climate change, which has already had a significant effect on its environment, wildlife and marine life. By volunteering in Africa you'll get a real-time glimpse of what's already being done to try to address the challenges being faced by African populations. This will help you to understand how African countries adapt and manage environmental concerns, and the other factors that affect their communities.
Through this experience, you can gain a better understanding of the African context, and broaden your perspective of global issues.
Volunteer opportunities are not only a great way to be a part of impactful initiatives, but by joining a GVI volunteer abroad program you'll get to experience Africa with a team that's focused on providing a safe and supportive volunteer experience. This is also a chance for you to grow personally and professionally by taking part in experiences that aren't always easy to come by back home.
In addition to all of this, volunteering in Africa promises some of the most diverse travel opportunities available today. This means that by choosing to volunteer in Africa, you'll also get a top travel experience and memories that will last you a lifetime.
GVI offers volunteer programs in Africa that provide a safe and supportive experience no matter the circumstances. Not only does GVI promise you support before, during and after your volunteer experience, we also have comprehensive health and safety policies that cover all the bases. These ensure that participant health and safety is maintained during all volunteer activities, and while volunteers are on base.
For those under the age of 18 who choose to volunteer in Africa, our parent pack can fill your guardians in on what GVI's volunteer programs in Africa are all about, and how your health and safety are prioritised throughout your volunteer experience.
Where can I volunteer in Africa with GVI?
When volunteering in Africa, travelling to Ghana will give you a glimpse of the continent's more tropical side.
Central Ghana is draped in some of the world's largest rainforests. Along the coast of the Gulf of Guinea, the landscape gives way to stretching sandy shores where traditional sailboats come to rest at the end of a long day at sea. The rest of the country is made up of plateaus overlooking low-lying plains. Here, large lakes and rivers nestle into the earth between the tall grasses and short trees of the savannah.
This combination of terrains means that Ghana is a country with a wealth of natural resources. Working with these resources, Ghana has made a name for itself as one of the top ten economic hubs of Africa.
Volunteer work in Africa will take you to our base in Kokrobite, near the city of Accra. Here, volunteer programs focus on community and economic development. This might involve skills development workshops to help women on their journey of self-empowerment, or teaching programs that increase educational capacity in the region and contribute to the employability of local participants.
No matter the program focus, these types of volunteer programs in Africa contribute to community development in Ghana, and make a positive impact that's relevant to the African context.
South Africa is situated at the southernmost tip of the African continent. Here you'll get to experience rugged mountain terrains, and a long coastline of sandy beaches that is lapped by the waters of the warm Indian Ocean on one side and the cold Atlantic Ocean on the other.
There are a wide variety of Africa volunteer programs to get involved in if you're eager to travel to South Africa. Volunteer jobs in Africa could take you to the capital city of Cape Town, or the less-populated province of Limpopo. These two locations offer programs in teaching and community development, public health, women's empowerment, wildlife conservation, bird research, and even sports volunteering.
When you volunteer in Cape Town you'll experience myriad cultures, since this city is home to one of the most culturally-varied populations in the world. Our volunteer base is situated in Gordon's Bay, a town laid out along the coastline of the Atlantic Ocean. From here you could spot fine-leafed fynbos flora, the craggy flat-top of Table Mountain, and even take a trip to the southernmost tip of Africa, where the Indian and Atlantic Oceans meet.
Since Cape Town is a major city with easy access to the sea and other natural environments, volunteer opportunities here are a good way to experience adventure while taking part in diverse volunteer programs.
Beyond the city limits, you could work alongside conservationists in the province of Limpopo. Africa volunteer programs in Limpopo offer you the chance to experience the wilds of Africa while contributing to wildlife conservation in a meaningful way.
On base at the Karongwe Private Game Reserve, grassy plains lay claim to the land. The distant peaks of the Drakensberg Mountain Range overlook the savannah, where lone trees and clumps of thorny bush are strewn across the wide-open space. This type of terrain is where you'll find rhinos, buffalos, lions, leopards and elephants; also known as the Big Five animals. Look a little bit closer and you're bound to see small mammals, reptiles and insects scurrying about too.
In Limpopo, volunteers can experience wildlife conservation in all its forms. Imagine dashing through the tall grass of the savannah trying to track a female cheetah while gathering data for a cheetah conservation project. Picture spending each day raising awareness around rhino poaching and working to safeguard South Africa's rhino population.
Now stop imagining and take a look at the variety of wildlife conservation and wildlife research programs that GVI offers from our base in Limpopo.
Volunteer work in Africa could also take you to a country made up of more than 100 islands, dotted across the western Indian Ocean. Seychelles is one of the world's smallest countries, but its wealth of coastline and tropical terrains means that this travel destination is big on attractions. You could start out by just having a look around while walking through the forests of Seychelles, since 80 of the 200 species of plants found here are unique to these islands.
Seychelles is also bursting with marine life, with more than 900 identified species of fish, not to mention the sea turtles and sharks that call these island waters home. Its jungle vegetation provides shelter for a variety of life on land too, like tortoises, frogs, bats, and an incredible array of birdlife.
When volunteering in Africa, you could travel to the islands of Curieuse or Mahe, and get involved in projects that monitor and report on the effects of climate change on island communities and their natural environments. Projects focused on marine life, wildlife, and environmental conservation can take you into every type of environment that Seychelles has to offer, and have you contributing to conservation efforts in a meaningful way.
Which types of programs are available when volunteering in Africa with GVI?
Volunteer projects in Africa in wildlife conservation
Volunteer work in Africa that gets you involved in wildlife conservation is a meaningful way to alleviate some of the current global issues. But the benefits of wildlife conservation go beyond what it means for animals. Our well-being is intertwined with the well-being of ecosystems on land and in the sea, and these ecosystems depend on a wide variety of life. Our Africa volunteering projects in Limpopo focus on:
preparing volunteers with the skills they need to work in wildlife conservation

contributing towards

rhino anti-poaching efforts

tracking and monitoring the behaviour of

elephants

,

big cats

and

hyenas

conducting wildlife research in the field

contributing towards

conservation efforts

aimed at a variety of African animals.
GVI's many wildlife volunteer programs in Africa take place from April to November.
Volunteering in Africa in marine conservation
Africa has the right coastal temperatures to support masses of marine life. But with marine pollution, overfishing, and the over-development of coastlines there's lots to be done in the way of marine conservation.
Marine conservation volunteer projects in Africa are focused on maintaining healthy marine environments, and monitoring and reporting on vulnerable or endangered marine animal populations – like green sea turtles and sicklefin lemon sharks. It also involves keeping an eye on, and finding solutions to, the effects that climate change has on these marine environments together with local governments and NGOs.
Women's empowerment and community development volunteering in Africa
Africa is home to the world's second largest population. With so many people dependent on the continent's natural resources, African countries have had to adapt the way they make use of these resources.
Many African countries also have a history of environmental, social, and economic challenges. Addressing the issues that are relevant to these communities, is at the heart of community development volunteer work in Africa. These efforts aim to assist the people of Africa in ensuring the well-being of all who live here.
Volunteering in Africa means that you could get involved in programs with a focus on women's empowerment, economic empowerment and international development. You'll be contributing towards improving the education and employability of the local community.
All of these volunteer projects in Africa take a sustainable approach to development. This means assisting local communities in using their resources efficiently, and focusing on cultivating local expertise.
Volunteering in Africa in teaching and early childhood development
With three-fifths of the African population aged between zero and 24 years old, Africa is one of the youngest continents in the world. This means that the majority of its population is either of school-going age or old enough for tertiary education. So, it makes a lot of sense that education is a big focus in African countries.
When taking part in volunteer projects in Africa that are focused on teaching and early childhood development, you can be a part of projects that make quality education more accessible to local children.
These activities speak directly to the United Nations Sustainable Development Goal (UN SDG) 4: Quality Education. You could assist teachers at local schools with carefully crafted lessons designed to make learning as fun and engaging as possible, and to support both the fine and gross motor development of young learners. This means that you could contribute towards positive long-term impact in the lives of African children, and assist in improving their access to employment opportunities in the future.
GVI follows a strict Child and Vulnerable Adult Protection Policy. Because of this, we no longer work with orphanages. Read our stance on orphanage volunteering for more information.
You can take part in these volunteer programs in Africa from January until November.
SCARICA LE NOSTRE BROCHURE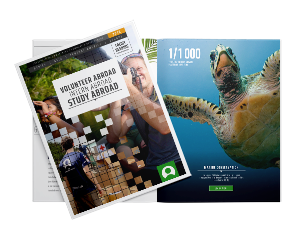 Our Videos & testimonials
Are all types of animal volunteering programs ethical? No. Read this article for advice on how to spot ethical organisations [...]
Is there anything new you could learn about elephants? Take our Elephant Facts quiz to find out!
Climate justice is social justice! Read this article to find out more about how climate change is linked to social justice. [...]