VOLUNTEER IN INDIA
View bold orange sunsets while surrounded by abundant greenery when you volunteer in India with GVI. You'll travel to the shores of the Arabian Sea, along the southwest coast of the country. Here you'll stay in Kerala, a state known for its jungle, mountain and seascape scenery.
When volunteering in India with GVI, you'll have time to visit the state's numerous warm-watered beaches. Enjoy the tropical climate while soaking up the sun and relaxing under the cool shade of nearby coconut trees.
Parallel to the ocean shoreline lies a vast network of interconnected lagoons, canals and lakes, often referred to as the "Kerala backwaters". When not volunteering, you can take a boat ride along one of the waterways surrounded by a flourishing green jungle landscape. From the boat, you might be able to view elephant families interacting along the shores.
GVI'S VOLUNTEERING PROJECTS IN INDIA
You can choose from a variety of community development volunteering programs in India, including:
MAKE AN IMPACT ETHICALLY WHEN VOLUNTEERING IN INDIA
In keeping with best practices in global development, all GVI projects, including our volunteer projects in India, are aligned to one or more of the United Nations Sustainable Development Goals (UN SDGs) and the objectives of local Keralan authorities, community members and non-governmental organisations. In this way, all of GVI's volunteers, including those volunteering in India, make both a local and a global sustainable impact.
For over twenty years, GVI has been committed to ethical best practice throughout all levels of our organisation including the operation of our volunteer programs in India. The children we work with around the world, including those in India, are safeguarded by our stance against orphanage volunteering and donations to orphanages as well as our Child and Vulnerable Adult Protection policy.
WHO CAN JOIN A GVI VOLUNTEERING PROGRAM IN INDIA?
Anyone from college students to retirees over 50 are welcome to join one of our volunteering programs in India. We don't currently offer volunteering programs in India for teens but we do have other volunteering programs available throughout southeast Asia for those under 18. Students in college, graduate school or on a gap year as well as professionals on a career break can use an India volunteering program to gain experience in community development, while senior volunteers can use their years of work experience to meaningfully support community development in India. No matter your stage of life or your background, you'll get to meet with volunteers from all around the world who share your dedication to making an impact.
Our high-quality health and safety standards ensure that all our volunteering programs including our India volunteering programs are compliant with British Standard 8848, a guideline for protecting international travellers on adventure tours abroad. We pride ourselves in being an excellent volunteer abroad provider for solo travellers and those who identify as women.
WHEN CAN I JOIN A GVI VOLUNTEERING PROGRAM AND FOR HOW LONG?
GVI's India volunteering programs run throughout the year, but many volunteers choose to travel during their summer holidays, choosing one of our India summer volunteer programs.
Our shortest available option to volunteer in India starts at two weeks, but volunteers can extend their stay to 24 weeks or more.
TYPES OF VOLUNTEER PROGRAMS IN INDIA
PUBLIC HEALTH VOLUNTEERING IN INDIA
As one of GVI's public health volunteer in India, you'll collaborate with local organisations in the state of Kerala to contribute towards health awareness workshops and other preventative health initiatives. This supports United Nations Sustainable Development Goal (UN SDG) 3: Good Health and Well-Being. This volunteering opportunity in India is great for those looking to go into a career in public health.
Some of the local partners our public health volunteers in India support are local primary and secondary schools. At these schools volunteers on the public health program in India work with educators to help children incorporate water, sanitation and hygiene (WASH) practices into their daily routines. These practices are important for preventing transferrable illnesses. They also conduct workshops on other health-related topics, such as nutrition, helping students make informed decisions about their health.
Further volunteering opportunities for our public health volunteers include a collaborative effort with local women and girls to facilitate women's health discussions. These discussions cover topics such as menstrual health. In this way, our public health volunteers in India not only support UN SDG 3: Good Health and Well-Being, but also UN SDG 5: Gender Equality.
VOLUNTEER TEACHING AND SPORTS IN INDIA
Volunteer on GVI's teaching and sports program in India to assist schools in the state of Kerala with increasing the quality- and equality-driven education opportunities offered to learners between the ages six and 16. Volunteers also contribute to the well-being of these students. In the process, they'll directly support UN SDG 3: Good Health and Well-Being and UN SDG 4: Quality Education.
A GVI volunteer working on the teaching and sports program in India will also be contributing toward UN SDG 8: Decent Work and Economic Growth. Studies have shown that higher rates of access to quality education in a country lead to social and economic growth. And as a result of economic growth, more employment opportunities are generated.
On this India volunteering project, volunteers collaborate with local educators to teach cricket, tennis, athletics, football, netball and other sports to primary and secondary school learners. Playing sports regularly helps these students to stay healthy, develop hand-eye coordination skills and practice interpersonal skills, such as their ability to communicate effectively and work in groups. GVI volunteers who teach sports to students in India also use these lessons as an opportunity to incorporate English language learning exercises. Students in India and around the world who improve their English language abilities are afforded greater opportunities for employment in the future.
VOLUNTEER WITH CHILDREN IN INDIA
Join GVI's volunteering with children in India program to support the development of children under the age of eight in the state of Kerala. These are not childcare programs, they're early childhood education (ECD) initiatives and they're carried out in line with the objectives of UN SDG 4: Quality Education.
Alongside other GVI other participants volunteering with children in India, you'll assist local teachers specialising in early childhood development with leading arts and crafts projects, sports activities and health awareness lessons.
Arts, crafts and sports activities support the development of important skills such as hand-eye coordination and cognitive skills such as problem-solving in children. GVI early childhood development volunteers in India will also have an opportunity to incorporate learning about numbers and the English language into these arts, crafts and sports activities. Volunteers will also cover health topics, such as the importance of handwashing routines and eating fruits and vegetables.
GVI volunteers on this program will improve their ability to manage a classroom of young learners and adapt their teaching style to the different educational needs of their students.
Bear in mind that GVI's volunteering with children in India program is not an orphanage volunteering program. We don't support orphanage volunteering or donations to orphanages.
In addition, our Child and Vulnerable Adult Protection policy further protects the children we work with on all our early childhood development programs, including those we run in India. All staff, interns and volunteers must complete a police clearance or national background check before arrival in the country, in this case, India. All staff and participants must all follow
child protection best practices for social media, such as not posting pictures of children's, their names or locations.
WOMEN'S EMPOWERMENT VOLUNTEERING IN INDIA
As a GVI women's empowerment volunteer in India, you'll work with local community members and organisations to contribute to UN SDG 5: Gender Equality. This is an excellent program for gender studies students. It's also great for those looking to pursue a career that involves contributing to gender equality, such as a manager of a diversity and inclusion program or a position at the United Nations Entity for Gender Equality and the Empowerment of Women (UN Women).
While volunteering in India, GVI's women's empowerment volunteers facilitate professional development workshops for local women that will help them increase their income, including computer skills and English lessons. In the process learn about gender inequality in education systems and how vocational training can support women's empowerment.
GVI women's empowerment volunteers in India not only work with women but also girls, boys and men to holistically enlist the assistance of everyone in the community to achieve gender equality aims. They lead workshops with women, girls, men and boys discussing topics such as gender norms.
WHERE CAN I VOLUNTEER IN INDIA WITH GVI?
VOLUNTEER IN KERALA
When you volunteer in India with GVI, you'll travel to the southwestern province of Kerala. The western coast of India features the Western Ghat mountain range, the eighth most biodiverse mountain range in the world. These mountain ranges are home to 39 World Heritage sites featuring forested wildlife reserves, recognised by the United Nations Educational, Scientific and Cultural Organization (UNESCO).
GVI volunteers in India stay in Kochi, a city that harbours an array of natural wonders and historical influences including Periyar National Park and Fort Kochi. This guarantees that those volunteering in India with GVI will experience significant ecological and cultural diversity.
CULTURE
As a GVI community development volunteer in Kerala, you'll have the opportunity to learn about the cultures of the local community members that you'll work with.
Kerala's cuisine is known for a wide and distinctive variety of flavours shaped by its former and ongoing spice trade relations with other countries. Along with your fellow GVI volunteers in India, you could try a traditional Keralan dish of puttu and kadala curry. This breakfast dish incorporates a coconut-based chickpea curry with a portion of rice and ground coconut. Or, try the famous dish of appam with ishtu, a bowl made out of an edible crispy crepe filled with a potato-based stew. Both dishes are available in vegetarian form. GVI participants volunteering in India with a preference for sweet dishes might like to try chatti pathiri, a dish made up of layers of pastry and dough filled with sweet custard filling and topped with a sesame seed garnish. As a GVI volunteer in India, you might even learn how to cook your favourite traditional dish with the support of local community members.
Depending on the time of year you choose to volunteer in India with GVI, you may have the opportunity to attend a Theyyam ceremony. During this ceremony, traditional stories are illustrated through a ceremonial dance form with a history of at least 800 years. If you volunteer during August and September you might also be able to experience the Onam festival, an annual celebration of the harvest.
While in Kochi, you can also check out the Kerala Kathakali Center, to learn about a form of Indian classical dance specific to the region, or the Folklore Museum, to learn about local storytelling traditions.
As a city with diverse cultural influences, Kochi is home to a variety of historic sites. As a GVI volunteer in India, you'll have the opportunity to travel to these culturally diverse sites in your own time. You could visit a 15th-century practising synagogue, a Kochi royal temple, a 16th-century Portuguese and Dutch palace, or the Chinese stationary nets dating back at least 500 years.
NATURE, WILDLIFE AND ADVENTURE
From its expansive estuaries of waterways to its verdantly green jungles, Kerala's landscapes are instantly recognisable. As a GVI volunteer in India, you'll have the opportunity to immerse yourself in this land of abundant natural diversity during your free time.
Visit Periyar National Park, home to one of the largest endangered Asian elephant populations. Other wildlife inhabitants of the wildlife reserve include rare mammals such as the Royal Bengal Tiger, black panther and lion-tailed macaque. Book a private or group houseboat tour along Periyar lake. You could also kayak along one of the waterways. You can also trek the ecologically diverse forests surrounding the largest waterfall in Kerala province, the Athirapally, or Athirapilly, Falls, or those of Silent Valley National Park.
While volunteering in India with GVI, you can also visit the beaches at Kovalam and Varkala.
FREQUENTLY ASKED QUESTIONS ABOUT VOLUNTEERING IN INDIA
Q: Are there any requirements for joining my chosen India volunteering program?
A: No, there are no specific qualifications required for joining a GVI volunteering program in India. All training necessary for contributing meaningfully to the India volunteering project you've selected is provided on the program itself.
Q: Where will I be staying while volunteering in India with GVI?
A: You'll live near the project communities in the southwestern coastal city of Kochi in India's province of Kerala. Our accommodation is dormitory-style and you'll share the living space with like-minded people from all around the world who are dedicated to making a global impact.
Q: Who will I be working with on a GVI volunteering program in India?
A: At each location, such as our location in India, our international team of GVI staff are there to guide volunteers throughout their stay. Volunteers also work closely with local community members. GVI volunteers of all ages come from a vast number of countries around the world and have a diverse range of backgrounds.
Q: Will volunteering in India with GVI boost my career?
A: GVI participants volunteering in India gain valuable experience in public health, teaching, gender equality, and early childhood development activities. They also improve their intercultural communication skills. The experience participants gain on one of our volunteering projects in India can be added to their resumes, increasing their future job prospects. Those seeking to receive further training and qualifications in leadership should look to join one of our internships in India, such as our community development internship in India.
Q: Will I need to learn a new language to volunteer in India with GVI?
A: Participants volunteering in India with GVI need to be proficient in English. While in the country, you'll be able to learn a bit of the official language of Kerala, Malayalam.
Q: Do I need a visa to volunteer in India?
A: As visa requirements are dependent on your country of origin we advise you to see information provided by your country's embassy. Speak to one of our support coordinators to find out more.
Incontra lo staff -
Senior Field Management
Paul Whitehouse
Program Manager
Say hi to Paul, the Program Manager at GVI's Kerala hub in India. Paul is from the UK and came over to India last year. He originally came on a service learning program, however has since become the Program Manager. Paul has a background in experiential education and has previously managed operations of community development programs. They have been in a variety of countries, including: Nepal, Ghana and the UK. Paul's passion lies with engaging with people in service learning activities so that they are able to get the most out of a experience while also giving back to a community. Lastly Paul is a freelance trainer. He enjoys capacity building and working with people from all walks of life. He is really excited to apply everything he has learnt to his time in India.
SCARICA LE NOSTRE BROCHURE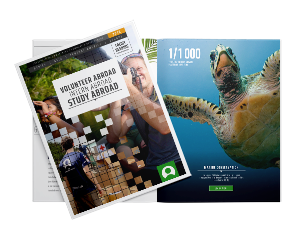 OUR VIDEOS & TESTIMONIALS
While a known passion for protecting our environment is good grounds to start on it can be difficult to figure out what exact [...]
Want to make a positive impact on the world, but don't know where to start? Check out these six major global issues, and [...]
Why is gender equality important, and how does it play a meaningful role in community development? Read this article to find [...]