VOLUNTEER IN NEPAL
Volunteer in Nepal with GVI and get the opportunity to explore this mountainous region surrounded by romantic rhododendron forests, rice paddies, and gorges of lowland bamboo.
When you volunteer in Nepal with GVI, you will be contributing directly to the United Nations Sustainable Development Goals (UN SDGs) by working towards focused, long-term goals that are set together with local communities.
Nepal has one of the densest concentrations of world heritage sites in the world, so your time here will be met with equal parts cultural exploration, trekking the vast Himalayan mountains, and personal development as you learn skills and make an impact with local communities.
Following the 2015 Nepal earthquake, our projects adjusted their focus to provide disaster relief to those vulnerable community members. In conjunction with our partners, trucks of supplies and family care packages were taken to some of the most affected areas.
Now our projects are more focused on initiatives within local Nepal communities, where groups have identified challenges around educational capacity, and the need to improve educational facilities (many of which were affected by the 2015 earthquake).
You can contribute to projects focusing on:
All GVI volunteer projects in Nepal provide support to local communities. As a volunteer in Nepal, you will work alongside local community members to identify where their challenges are and provide support accordingly. Through this, you are able to contribute to a more sustainable development and empowerment plan aimed at providing greater opportunities for Nepali people.
In order to ensure maximum sustainability, GVI volunteer projects in Nepal employ local people to assist other international staff members with coordinating and managing the running of these programs. All of the resources used during each Nepal volunteer project are purchased locally to further support the community.
For volunteers and interns, volunteering in Nepal provides you with an opportunity to immerse yourselves in Nepali cultural traditions and foods. For the trekkers, you'll have the chance to taste "dal bhat" – a local carb heavy curry dish that is known to fuel the body with the strength and energy needed to take on trekking in the Himalayas.
If trekking isn't for you, immerse yourself in Nepali culture through a visit to some of the Hindu temples and Buddhist monasteries in the region. Visit Tal Barahi Temple, located on a tiny island on the nearby Phewa Lake or check out the Shanti Stupa – a World Peace Pagoda – a hilltop Buddhist monument dedicated to spreading kindness. Or how about admiring the gorgeous panoramic views on offer from the waters of the Phewa Lake? Hire a kayak and paddle out to the middle of the lake, where the only sounds to disrupt the calm will be your paddle dipping in and out of the still water.
GVI is committed to upholding ethical best practices on all of our programs and focus areas. This is illustrated by our badge of ethics. Sustainable volunteer programs are also offered in other countries in Asia, for example in Laos, India and Thailand. Whether you're 18 or 85, you can contribute towards making a sustainable impact with GVI.
WHERE CAN I VOLUNTEER IN NEPAL WITH GVI?
GVI operates in one location in Nepal.
Travel to central Nepal to visit, volunteer and trek in Pokhara, just 200 kilometres west of Nepal's capital city, Kathmandu. Pokhara is a popular tourist destination and actually the second most visited city in Nepal. The region is loved for its tranquil environment, mountain views, as well as its beautiful freshwater lake. Pokhara is situated beside the banks of the Phewa Lake, and has views of three of the highest mountains in the world.
Volunteer in Nepal and experience the diverse Himalayan scenery. This country offers volunteers the chance to learn about different cultural traditions and religions as well as enjoy a range of outdoor adventures.
Volunteers in Nepal will have an opportunity to see Pokhara and its many temples. And for the adventurous type, volunteer work in Nepal can be paired with trekking or white river rafting trips. Make the most of everything Pokhara has to offer, and gain insight into Nepali people and culture during your stay as a volunteer in Nepal.
WHY VOLUNTEER IN NEPAL?
Nepal is one of the most sought-after travel locations in Asia due to its diversity of cultural traditions, mountainous surroundings, and trekking opportunities. By volunteering in Nepal not only will you be contributing towards making a sustainable impact, but you will have the Himalayas on your doorstep.
GVI offers two different trekking opportunities for volunteers to tackle before or after volunteering in Nepal.
Of all the major treks in Nepal, the Annapurna sanctuary trek is one of the shortest, taking just ten days to complete.
During this ten-day trekking experience, you will walk through villages and stay in traditional tea houses. You will have the opportunity to live with and further experience the life and cultural practices of different Nepali people.
Challenge yourself with a two-week trek to Everest Base Camp in Nepal, bonding along the way with other participants from around the world.
Trek to 5,364 metres above sea level, up to the foot of the tallest mountain in the world, while experiencing the scenic natural beauty of the Himalayas first-hand.
The ascent will take you through green meadows and traditional mountain villages, up to panoramic views of the valleys below. Throughout your journey, you will be staying at and supporting the many teahouses, or locally-owned lodges, that dot the trail.
WHICH TYPES OF VOLUNTEER PROGRAMS ARE AVAILABLE IN NEPAL WITH GVI?
SIX QUESTIONS TO ASK BEFORE YOU VOLUNTEER IN NEPAL
Before taking a trip to begin volunteering in Nepal, there are a few questions you might want answered.
Q: Which volunteer program can I join?
A: GVI offers a range of different volunteering programs in Nepal. Choose from a variety of programs focused on either childhood education, public health, women's empowerment, or construction.
Q: How do I know if the volunteering I am doing is ethical?
A: GVI is an organisation that is committed to a high level of ethical best practice, in every area. We have developed and are committed to ten ethical principles and five human empowerment principles. Our badge of ethics represents our dedication to always uphold, revise and improve our policies. Improvements to our policies are made in collaboration with our ethics officers and outside experts.
Q: How long can I volunteer in Nepal for?
A: Nepal volunteering durations range anywhere from 1 week to 20 weeks of participation.
Q: What qualifications do I need in order to become a volunteer in Nepal?
A: No specific qualifications are necessary to become a volunteer in Nepal with GVI. If you are interested in joining one of our adult volunteering in Nepal programs, you must be at least 18 years of age.
If you are between the ages of 15 and 17 and are still keen to make an impact as a volunteer in Nepal, you can join our teen volunteering projects or talk to your school about organising a group trip to volunteer in Nepal. All training required for the volunteer program you have chosen will be provided in the field. All our volunteering in Nepal programs include health and safety and child and vulnerable adult protection training.
Q: Where will I be staying?
A: When you volunteer in Nepal's Pokhara region, you will stay about a three-hour drive away from the capital city of Kathmandu. Your accommodation will be in a group homestay setting, where you will stay with your fellow volunteers from all around the world. The house has hot water and a good wifi signal so you will be able to stay in contact with your friends and family back home.
Q: Who will I be volunteering in Nepal with?
A: GVI volunteers come from all over the world, and have a range of different backgrounds and cultural beliefs. You will more likely than not find yourself leaving your volunteer in Nepal experience with new lifelong friendships you never thought you'd have.
GVI NEPAL VOLUNTEERING PROGRAMS
Working with children as a volunteer in Nepal gives you the opportunity to contribute to ongoing educational initiatives in the Pokhara region. Developed by our staff and in-country partners, this program works towards reaching sustainable local objectives and global goals set by the United Nations.
The object of all our childhood education programs in Nepal is to provide resources to support long-term improvements in developmental and learning outcomes for students.
Education volunteers in Nepal will support teachers at a local Nepali primary school. The aim is to provide support in developing children's literacy and numeracy, as well as skills such as hand-eye-coordination, social interaction and teamwork. We also support children in improving their conversational English skills to assist them with accessing future education and employment opportunities.
It is important to note GVI does not support orphanage volunteering in Nepal, or any other location. For more information see our stance on orphanage volunteering. We also support ChildSafe, a global child protection initiative, and regularly review our comprehensive Child and Vulnerable Adult Protection policy.
All staff and participants are required to complete a police background check before arrival on the volunteer in Nepal program, and on-site child protection training is provided once they arrive to volunteer in Nepal. We also protect children from cyber and real-world threats by ensuring that our marketing material follows child protection best practices.
Contribute towards advancing United Nations Sustainable Development Goal (UN SDG) 3: Good Health and Well-Being when you volunteer in Nepal's Pokhara region. Create awareness of preventative health practices through participating in health education initiatives in local communities. Volunteering in Nepal will also allow you to assist local teachers to encourage preventative health practices in both children and adults.
As a volunteer in Nepal, you can also contribute to water, sanitation, and hygiene (WASH) workshops. Supporting regular hand washing and other habitual hygiene practices can significantly improve the long-term health of youth and adults.
Join staff and other GVI participants from around the world in Nepal's community of Pokhara to learn about, and contribute to, women's empowerment initiatives in the region. This program's goals are aligned with UN SDG 5: Gender Equality.
Some of the projects run in Nepal include literacy, numeracy, and life skills workshops for girls at a local school, as well as professional skills development classes with women living in the area.
As a volunteer in Nepal, you can also assist in the running of conversational English classes and women's health workshops. In addition, we work with the women of SASANE, an anti-human trafficking organisation to spread awareness about the prevalence of the issue.
Support educational objectives when you volunteer in Nepal through the development of infrastructure. Contribute to UN SDG 4: Quality Education by building and renovating educational infrastructure that was damaged in the 2015 earthquake in the city of Pokhara.
The projects are led by local partners, such as primary schools in the area and local construction coordinators. The objective of these projects is to improve the educational outcomes of the students and to improve the health and safety standards of facilities. Specific improvements to facilities include adding more desks in classrooms or renovating school libraries or bathrooms
Construction volunteers in Nepal can expect to assist with putting furniture together, and building and repainting walls, depending on the needs of the community at the time. When you volunteer in Nepal on one the construction program you will be working alongside local workers as well as fellow international participants.
Incontra lo staff -
Senior Field Management
Hannah Westcott
Program Manager
This is Hannah, the Program Manager at GVI's base in Pokhara, Nepal. She has been visiting Nepal for several years now, mostly working in Kathmandu. When she heard about the opportunity with GVI she was very excited, acknowledging that GVI is a purpose-driven organisation, which she respects and values.
Hannah believes that the small things are what have a large impact on communities. The projects she has been working with include teaching, women's empowerment and more. Hannah can observe the positive change the work brings to the communities. On top of this, she also sees the change that the work can have on the volunteers and how it develops them in their journeys.
Incontra lo staff -
In-Country Staff
Rhythm Gautam
Teaching Coordinator
This is Rhythm! He is 22 years old and was born and raised in Pokhara, Nepal. He was originally a trekking guide, then the opportunity to become a Teaching Coordinator popped up and he got involved. At the moment he teaches both Englishs and Math to partner schools for grades one to five.
Sita Thapa
Project Coordinator
Meet Sita. Sita is one of the Project Coordinator for the Women's Empowerment project in Pokhara, Nepal.
She has been with GVI for a year now, and it has since become family for her. As part of her role she works with community members and leads volunteers. She finds inspiration working with volunteers and is grateful to do the work she does, empowering women in different ways.
SCARICA LE NOSTRE BROCHURE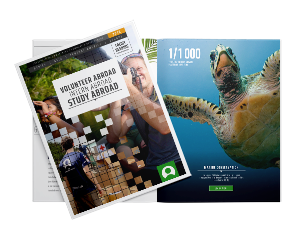 OUR VIDEOS & TESTIMONIALS
Volunteer holidays for families can make your time abroad much more meaningful. Read this article for family volunteering [...]
Want to make a positive impact on the world, but don't know where to start? Check out these six major global issues, and [...]
Interested in learning about Nepal wildlife? Find out how Nepal managed to increase its Bengal tiger population and other [...]