GVI VOLUNTEER PROJECTS IN CAMBODIA
Experience the Kingdom of Cambodia with its captivating cultural history and iconic temples and monuments. Siem Reap is a hive of activity, where medieval architecture abuts lively markets, diverse restaurants and riverside hangouts. Further out from the city you can enjoy the stunning natural landscapes, filled with lush greenery, glistening rice paddies and waving sugar palms.
Local non-governmental organisations in Cambodia have made massive strides during the past two decades in uplifting their communities. In 2017, we were contacted by a number of these organisations who focus on sustainable development to ask if we would be able to provide the kind of support they need to make their objectives a reality.
By joining GVI you can volunteer in Cambodia and take an active role in improving the educational and community initiatives in Siem Reap. We have a variety of programs available where participants can take part in:
Improving the quality of early development education children in the local community receive by teaching English in Siem Reap, running kindergarten drop-in centers and engaging young children in activities, games and fun;

Improving the opportunities women and girls have in the local community by running English lessons, workshops and raising awareness through events;

Improving the community awareness on health and wellbeing issues by leading workshops and raising awareness through events.
GVI does not support orphanage volunteering. For more information see our stance on orphanage volunteering, and regularly review our comprehensive Child and Vulnerable Adult Protection policy. All our staff and participants are required to complete a police background check before arrival on the program, and on-site child protection training is provided once they arrive in the host country. We also protect children from cyber and real-world threats by ensuring that our marketing follows child protection best practices.
In Siem Reap we offer a range of volunteering opportunities where we align our programmes with the United Nations Sustainable Development Goals. Specifically, we focus on #3, Good Health And Wellbeing, #4, Quality Education, #5, Gender Equality, #8, Decent Work And Economic Growth and #10, Reduced Inequalities.
So, if you've always dreamt of exploring off the beaten track, why not consider also making an impact while you're there? No matter where you are at in your academic or professional journey, if you are trying to find out how to volunteer in Cambodia, simply submit an application form requesting to join one of our projects and we will be in touch shortly.
ABOUT CAMBODIA
At the heart of South-East Asia, you will find our GVI base in Siem Reap, Cambodia. Learn about local cultural practices by working on education programs with local schools, or conducting preventative public health or women's empowerment workshops in the Siem Reap community. Famed for its historic temples and diverse landscapes, Cambodia is the top choice for those looking to explore off the beaten track.
In Siem Reap, you can enjoy the electric atmosphere of the bustling streets, visit the sprawling markets or immerse yourself in the history of the country with its sights and museums. Volunteers can see all the wonders that Cambodia has to offer by spending their evenings and weekends visiting national parks, the floating market, waterfalls, taking part in cooking or pottery classes, and seeing what's on offer in the bustling markets. If they wish they can travel away from Siem Reap to Tonle Sap Lake, Phnom Penh, Kampong Khleang, Battambang, or Banteay Srei and see a different side to Cambodia.
WHERE DOES GVI WORK IN CAMBODIA
GVI's community development project is based in northwestern Cambodia, in Siem Reap which is the capital city of Siem Reap Province. It is frequented by both foreigners and locals as there are many things to do in Siem Reap. It is also a gateway to the Angkor Archaeological Park, which was declared a UNESCO World Heritage Site in 1992. The city itself has colonial and Chinese-style architecture and is bursting with Cambodian heritage that is captivating. Volunteers can find themselves immersed in Cambodia's captivating cultural history, iconic temples and monuments, whilst helping us to contribute to the United Nations Sustainable Development Goals.
HOW VOLUNTEERING IN CAMBODIA ADDS TO YOUR RESUME
Many new graduates do not add their volunteering abroad experience to their resumes. This is a missed opportunity because volunteering abroad helps to build exactly the kind of skills like teamwork and intercultural competency that hiring managers are hoping to find in a great candidate. Volunteering is therefore not only an experience that adds to your personal development but an activity that will prove itself worthwhile to your professional advancement.
WHAT SKILLS WILL VOLUNTEERING IN CAMBODIA TEACH ME?
Learning to cope in a foreign country is always something that will add to your CV (and your life story). During your time in Cambodia you'll learn to communicate effectively with persons of all ages, different levels of education, and completely different cultural backgrounds. You'll also learn to be adaptable and resilient. But, the most important thing you'll gain is a sense of relatedness to a greater global community, specifically with friends and personal connections in Cambodia.
HOW DO I BOOK?
If you're excited to make an impact on the community in Cambodia, get in touch with us and we can help you to book onto one of our programs. Our volunteer programs are designed to help volunteers make a difference whilst learning about the history of Cambodia, including the Khmer Rouge era. Request to join our education, women's empowerment or public health programs, depending on your specific interests.
SCARICA LE NOSTRE BROCHURE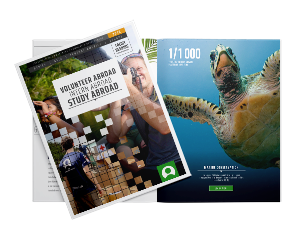 Our Videos & Testimonials
While a known passion for protecting our environment is good grounds to start on it can be difficult to figure out what exact [...]
Are you set on taking a gap year but not sure what to do? Check out these top gap year ideas for inspiration.
There are tons of opportunities to get involved in during a gap year before medical school. Read this article for the best [...]