Volunteer in the Canary Islands, Spain
Step foot into the Canary Islands of Spain, off the coast of northwestern Africa. This Spanish archipelago is made up of seven volcanic islands surrounded by the Atlantic Ocean. Its waters quench the conditions coming off of the nearby Western Sahara and harbour some of the most interesting marine life in the depths of Spain's oceans.
Volunteer in the Canary Islands and see the loggerhead sea turtle peacefully gliding between the sandy ocean floor and its sunkissed surface, and watch pods of Atlantic spotted dolphins socialising with their bottlenose friends.
From our island base in Tenerife, you'll even spot the usually nomadic long-finned pilot whales that settle down between the islands of La Gomera and Tenerife. And as a volunteer for cetacean conservation – dolphin and whale conservation – you'll be a part of efforts to conserve these species and their marine habitats.
Why become a volunteer in the Canary Islands?
Tenerife alone welcomes up to five million eager tourists a year, who come from across the world to see the island's biodiversity. These include marine animals like whales, dolphins, sea turtles, as well as other marine life.
But, too many feet treading the island and its beaches means that the natural biodiversity is interrupted by an influx of tourism, boat traffic, overfishing and excess waste on the island shores.
That's why GVI works collaboratively with local organisations to contribute to dolphin and whale conservation in the area. And our programs are aligned with the objectives set out in the United Nations Sustainable Development Goals (UN SDGs).
GVI's conservation efforts are also led by our badge of ethics, which represents our commitment to responsible and ethical best practices in all of our projects.
As a volunteer in the Canary Islands of Spain, you'll assist with the preservation of marine life such as dolphins and whales. Here, you'll gain valuable knowledge and practical skills, like species monitoring, data collection and reporting. That means you'll up your resume and make an impact in dolphin and whale conservation at the same time.
What are you waiting for? Dive into cetacean conservation by becoming a volunteer in the Canary Islands of Spain.
How marine conservation volunteering helps
Our marine conservation efforts aim to protect marine creatures, big and small, and the natural life cycle of all life underwater.
GVI Canary Islands dolphin and whale conservation programs set out a few key objectives in our efforts to safeguard marine life:
We collect data so that experts can assess the populations and behaviour of whales, dolphins and other marine species around Tenerife.

We contribute to the science of marine conservation projects by publishing our findings.

We assist with local marine and coastal waste management efforts through activities like beach clean-ups.

We raise awareness about sustainable and ethical tourism practices.
Where can I volunteer in the Canary Islands?
GVI operates in one location in the Canary Islands – Tenerife.
As a cetacean conservation volunteer in the Canary Islands, Tenerife offers you the opportunity to participate in activities such as ethical whale watching while monitoring and collecting data on marine life. And when you're on land, beach sand will find beds between your toes while you take part in land-based cetacean monitoring, a beach survey or cleanup.
And maybe while swimming after a day of volunteering, you'll flop between the sound waves of dolphins using echolocation to find food. But be sure to mind your step to avoid a bottom-feeding butterfly ray in the sand!
And, you can even catch sight of the Portuguese man o' war – a poisonous bluebottle that'll sting to the touch, but will delight the eye with its purple and blue form.
The Canary Islands also offer many attractions on your days off.
Where can I go during my spare time?
The Canary Islands offer you diverse environments, from tropical forests and dry volcanic landscapes to snow-covered peaks.
Visit a UNESCO heritage sight in Tenerife, the Teide National Park, which holds the Teide-Pico Viejo stratovolcano. The volcano is the tallest point in Spain, reaching up to 7,500 metres.

Take a boat trip to another island. The fourth-largest of the Canary Islands, Lanzarote, is known for its volcanic craters and beaches decorated with palm trees. This site was even declared a Biosphere Reserve by UNESCO in 1993.

Walk the meadows of Gran Canaria island or lounge on its white sand beaches. Keep your eyes out for a Gran Canaria giant lizard feeding on island plants and fruit.

If you're visiting Gran Canaria for the weekend, you can spend your Sunday roaming the markets in the towns of Teror and San Mateo. Support local businesses by buying goods from vendors and remember to purchase a keepsake for back home.

If you're looking for a spot that's less frequented by tourists, visit the islands of La Palma and El Hierro. See black-sand beaches at La Palma, or walk between the pine, laurel, eucalyptus and chestnut trees in El Hierro.
What type of volunteer work can I do in the Canary Islands?
GVI's Canary Islands programs focus on the United Nations Sustainable Development Goal (UN SDG) 14: Life Below Water.
We work in cetacean conservation by monitoring and collecting data on whale and dolphin populations as well as other marine species.
As part of our efforts, you'll assist with photo identification and passive acoustic monitoring of marine animals and determine the source of sounds underwater. When not at sea, you'll perform plastic pollution research and land-based whale and dolphin spotting. Become an expert using a DSLR camera, hydrophone, telescope and binoculars as you gain hands-on field experience in Europe's first Whale Heritage Site. All our data is recorded and inputted into various databases. This data helps grow our body of knowledge around dolphin and whale conservation so that we can create sustainable solutions for the survival of these marine animals.
These solutions include recommendations on sustainable tourism practices, fishing regulations, waste management and other guidelines regarding environmental impact.
You can participate in one of the following dolphin and whale conservation programs:
What will I get out of volunteering?
Skills training:

You'll be trained on data collection and analysis. You'll also learn how research science works and how to use it to make a contribution to government and organisational decision-making.

Informative workshops:

You'll learn about the biodiversity of the Canary Islands and how to identify species for monitoring.

Pollution and waste awareness:

You'll learn about the effect of waste in the ocean and on beaches, and ways to develop sustainable solutions.

Up your resume:

You'll be able to add a bunch of hard and soft skills to your resume so you stand out from your peers.

Language acquisition: The predominant language spoken in Spain is Spanish. While we don't offer Spanish classes, you'll be surrounded by Spanish speakers while you volunteer: from staff members who live on base, and local community members that you'll interact with on our programs.
How old do I have to be to volunteer?
Our programs in the Canary Islands, Spain are available to participants over the age of 18 who are interested in being a part of environmental education, cetacean conservation, whale conservation, or dolphin conservation.
How does GVI promote health and safety?
GVI holds the health and safety of our participants, staff and partners at the forefront of all of our decisions. We promise you support before, during and after your volunteer experience. GVI is guided by a comprehensive health and safety policy that covers all our bases worldwide. Our practices ensure that your health and safety is maintained during all volunteer activities.
To ensure additional protection during the COVID-19 pandemic, GVI follows updates from the Centers for Disease Control and Prevention (CDC) and the World Health Organization (WHO). We also monitor the UK, US and Australian government travel advice, as well as health advice from local governments in our volunteer locations. With this information, we've amended and improved on our extensive procedures and protocols to ensure that you have a safe experience with us during and after COVID-19.
Read more on our health and safety measures and stances here.
When can I volunteer during the year?
Whether you're taking a summer vacation or you're on a gap year, you can volunteer in the Canary Islands all year round.
Join GVI in dolphin and whale conservation and make an impact now.
SCARICA LE NOSTRE BROCHURE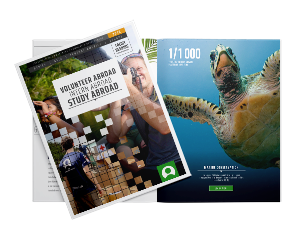 MARINE CONSERVATION VIDEOS & TESTIMONIALS
Why is Life Below Water so precious? What is UN SDG Goal 14? How can we conserve marine ecosystems through marine conservation [...]
Marine Protected Areas: What are they? Where are they? Why are they important? Find out how you can get involved in ocean [...]
Join the amazing GVI marine conservation program in Fiji. Help increase the understanding of marine ecosystems. Expand on [...]
Our Programs in the Canary Islands