Volunteer in Fiji
Interested in Pacific island volunteering? Volunteering in Fiji is an excellent choice.
Fiji is an archipelago of over 300 islands located in the Pacific Ocean. This destination offers more than the classic island paradise experience. Yes, it has long stretches of pearly white beaches lined with palm trees and a warm, clear and blue-tinted sea. But its waters are home to nearly half of the world's known coral species. This makes for endlessly fascinating diving and snorkelling experiences among its polychromatic underwater wonderlands.
The country is also a leader in sustainability and ecotourism, effectively managing its natural resources and economically benefiting from this investment. By volunteering in Fiji, you'll be able to experience the natural abundance of Pacific environments while learning how to best preserve them.
As a GVI marine conservation volunteer in Fiji, you can carry out research on how Fiji's corals and fish species are dealing with threats such as climate change and unsustainable fishing. You can also assist with activities that protect Fiji's marine life such as clearing plastic from beaches, ocean floors and reefs.
Or, take part in one of our community development volunteering programs in Fiji. On one of these volunteering programs, you'll assist members of the local community with early childhood development, global public health and gender equality initiatives.
Each of our Fiji volunteering projects is aligned to one or more of the United Nations Sustainable Development Goals. They're also compliant with our ethical and safety guidelines.
GVI's Fiji volunteering opportunities
Choose from a wide variety of volunteer work in Fiji when volunteering with GVI. Below we've created an overview of the type of work you can do while participating in one of our Fiji volunteering programs. You could:
Take note that our early childhood development programs don't allow volunteers to work in orphanages. We don't support orphanage volunteering or donations to orphanages.
The durations for our volunteering programs in Fiji start at two weeks but there are plenty of longer-term options available. Those over 18, including college students, gap year students, career breakers and older adults can join our Fiji volunteering programs at just about any time throughout the year. We also offer Fiji volunteering programs designed specifically for teens. These teen programs run during the northern hemisphere's summer months, namely June, July and August. Like all our teen programs, our teen volunteering program in Fiji includes a higher level of staff support, a pre-established itinerary, chaperoned cultural and adventure activities and a leadership certificate.
Ready to apply to one of our Fiji volunteering programs? Select your program and submit an application.
GVI'S FIJI VOLUNTEERING PROGRAMS
ANTI-PLASTIC POLLUTION VOLUNTEERING IN FIJI
Plastic pollution has a marked impact on the people and the ecosystems of Fiji's idyllic Australasian island and marine habitats. Contributing towards reducing plastic pollution assists with preventing harm to Fiji's citizens and habitats as well as advancing the global objectives of the United Nations including Sustainable Development Goal (UN SDG) 3: Good Health and Well-Being and Goal 14: Life Below Water.
Burning plastic and other waste is how some communities in Fiji manage their waste. This method of waste management is harmful to the environment and the health of the communities.
In partnership with Fiji's Ministry of Health, GVI builds recycling stations with the communities of Dawasamu district, and other nearby districts, located on Fiji's main island of Viti Levu. We also work with community leaders to facilitate recycling workshops. In addition, our team monitors the uptake of these systems in the communities and how much waste has actually been collected.
Our marine conservation volunteering opportunities available on Fiji's Caqalai island also allow volunteers to contribute to anti-plastic pollution efforts. When not scuba diving to monitor coral reefs, GVI marine conservation volunteers in Fiji take walks around the small island's beaches, collecting plastic that would otherwise make its way into the sea and endanger the fragile balance of life below water.
CONSTRUCTION VOLUNTEERING IN FIJI
If you're looking for an interesting alternative to building houses while volunteering abroad, then our Fiji rainwater harvesting and water security volunteering program could be for you.
Freshwater is vitally important for the health and well-being of all people. This is why UN SDG 6 is Clean Water and Sanitation. Water is needed for farming, hydration and hygiene. But, island nations such as Fiji, face infrastructure challenges when trying to manage freshwater supplies due to the nature of their geography.
GVI works with local communities on Fiji's island of Viti Levu to install rainwater harvesting systems at key locations. Sometimes, we also install compost toilets on the island of Monuriki.
As a volunteer contributing to GVI's water security projects in Fiji, you can get involved in the construction of these important facilities. You might also have the opportunity to help out other community development volunteers in Fiji, such as our plastic pollution volunteers, who sometimes construct recycling stations, and our public health volunteers, who sometimes install and maintain community vegetable gardens.
MARINE CONSERVATION VOLUNTEERING IN FIJI
Marine environments around the world, including Fiji's corals and fish, are negatively impacted by warming ocean temperatures caused by climate change, plastic and other types of pollution, tropical storms and unsustainable fishing practices. The health of marine environments, such as Fiji's coral reefs, are important because they provide the local population with nutrition as well as economic opportunity through fishing and tourism.
Collecting data on how marine life is dealing with these threats helps local governments like Fiji's Ministry of Fisheries make decisions about how to effectively manage marine resources. But collecting this data can be a challenge due to limited personnel and equipment.
GVI marine conservation volunteers in Fiji assist the local government with collecting data on the health of coral and fish populations. In the process, GVI marine conservation volunteers in Fiji contribute to local objectives and one of the 17 UN SDGs, namely Goal 14: Life Below Water.
One of the methods used to collect this marine conservation data is called the manta tow. This involves one of our Fiji marine conservation volunteers donning snorkelling gear and being pulled slowly behind a boat. The volunteers assess the health of coral habitats and fish populations by identifying factors such as the vibrancy of the corals. They then record this information on a waterproof data sheet when the boat stops. This method allows large stretches of the reef to be monitored while only having access to limited resources.
Before working on these coral and fish surveying projects, GVI's marine conservation volunteers in Fiji all earn our exclusive qualification: the PADI (Professional Association of Diving Instructors) Coral Reef Research Diver Distinctive Specialty. They can also earn a range of other PADI qualifications from the PADI Advanced Open Water Diver certification to the PADI Divemaster certification.
In addition to conducting conservation research of marine environments, GVI's marine conservation volunteers in Fiji make regular visits to nearby communities. Engaging the local community in local conservation goals is key to protecting natural resources around the world and Fiji is no exception. GVI marine conservation volunteers stationed on Fiji's island of Caqalai visit communities on nearby islands such as Monuriki. Here, they facilitate environmental awareness workshops focusing on topics such as preventing plastic pollution and sustainable fishing practices.
PUBLIC HEALTH VOLUNTEERING IN FIJI
On Fiji's main island of Vitu Levi, we work with a regional nurse to support local community health workers from a number of districts including Dawasamu, Namena and Sawakasa. We facilitate interactive workshops for these community health workers to help them with promoting UN SDG 3: Good Health and Well-Being in their villages.
Some of the topics we cover include CPR (cardiopulmonary resuscitation) and nutrition. In a CPR workshop, community health workers are taught how to identify when someone needs cardiopulmonary resuscitation and how to perform it. Effective CPR is known to double or triple a person's chances of recovering from sudden cardiac arrest. Nutrition workshops include discussing the different nutritional needs of pregnant or lactating mothers, infants, adolescent girls and older adults. By participating in one of our nutrition workshops community health workers are better equipped to be able to support nutritional education in their villages.
GVI public health volunteers in Fiji could also assist in the construction and maintenance of community gardens. These gardens allow communities to grow their own fresh fruit and vegetables.
VOLUNTEER WITH CHILDREN IN FIJI
Contribute to UN SDG 4: Quality Education by supporting early childhood development efforts in local communities on Fiji's main island of Viti Levu. The goal is to provide children under five years of age with the support required to develop the key cognitive, emotional, physical and social skills that'll help them excel in academics in the future.
On this program, you'll be developing and delivering educational games to children. The goal of these games is to develop key competencies such as mathematical fluency. You might also read stories to the children and ask questions to assist with the development of their comprehension skills. Arts and crafts, dances and sports sessions might also be conducted to assist the children with developing hand-eye coordination.
To ensure a holistic approach, volunteers also assist in facilitating short courses for parents and guardians focused on how to support early childhood development at home.
Please note that while this program allows you to volunteer with children, it doesn't allow you to visit an orphanage or work with orphans. We don't support orphanage volunteering or donations to orphanages. For more information, see our stance on orphanage volunteering.
In addition to our stance against orphanages, the children we work with around the world and in Fiji are protected by our comprehensive Child and Vulnerable Adult Protection policy that we review regularly. This includes child protection training, that each volunteer, intern and staff member must complete before starting on any project that involves interaction with children, such as our volunteering with children program in Fiji. All our volunteers, interns and staff are also required to complete a police background check before they can sign up to any of our programs.
WHERE CAN YOU VOLUNTEER IN FIJI WITH GVI?
VOLUNTEER ON CAQALAI ISLAND
If you choose to join one of our Fiji marine conservation volunteering programs, you'll travel to the tiny, 14-acre island of Caqalai, pronounced "than-ga-lai". It's located on the edge of an expansive reef system, making it the perfect base from which to learn about how to preserve coral reefs.
Here, you'll live in a traditional Fijian hut, known as a bure, and go on regular scuba dives, if the weather permits, during the week to conduct surveys of the surrounding reefs. On weekends, you can soak up the sun while relaxing on the beach and watch one of Fiji's famous sunsets.
VOLUNTEER ON VITI LEVU ISLAND IN THE DAWASAMU DISTRICT
If you join GVI's community development volunteering project in Fiji you'll be based on the main island of Viti Levu in the district of Dawasamu. Here, volunteers support early childhood development and public health initiatives during weekdays in villages that work to preserve their traditional culture.
Living and working in these villages gives volunteers the opportunity to learn about the traditional culture of Fiji first-hand. Upon arrival, many volunteers are invited into the community with a traditional welcoming ceremony. If they are of age, this might include attending a kava ceremony. Kava is a drink prepared in a special ceremonial bowl in front of the local community leaders. It forms a key part of the traditional culture of Fiji. Depending on when you choose to volunteer in Fiji, you might also be able to attend a meke, a traditional dancing ceremony. Volunteers will also have the opportunity to join mat weaving classes led by local women. Throughout their stay, volunteers will be able to sample fresh coconut water and traditional Fijian dishes such as topoi, a type of sweet dumpling flavoured with coconut.
GVI's community development volunteering base in Fiji is located close to Moon Reef, a site known for its vibrant colours and resident population of spinner dolphins. If you would like to visit the reef, be sure to choose a responsible tour organisation so as not to disturb the marine life or dolphins. Alternatively, if you'd like to experience the landscape of Viti Levu, you can always go for a challenging hike up Tova Peak.
WHAT'S LIFE LIKE WHILE VOLUNTEERING IN FIJI?
GVI volunteers in Fiji live in shared bures, traditional Fijian huts. In the same way as all our volunteers, they live and work with other volunteers, interns and GVI staff from all around the world. Living in an international community such as this with like-minded individuals is why many of our volunteers leave our programs with life-long friends.
All GVI volunteer work takes place during office hours on weekdays and this is the same in Fiji. Weekends are your time that you can use to relax at the accommodation, visit nearby areas or travel a little further to enjoy some of Fiji's many adventure activities.
On weekdays, after breakfast, volunteers leave promptly each day to take part in their volunteering projects. Fiji's warm climate and picturesque natural scenery definitely make for a pleasant volunteer work environment. During the day, there's a lunch break and at the end of the day, volunteers return to their accommodation to prepare dinner, socialise with other volunteers, walk along the beach or take a dip in the sea.
Our community development and marine conservation projects involve different activities and are based in separate locations. This makes the volunteering experience on each of these projects a little different.
The Fiji community development volunteering project is more of a cultural experience than the marine conservation volunteering project. Our community development volunteers live in a local village learning from the people of Fiji about their heritage. Days are spent conducting lessons and workshops or preparing resources for these activities.
Life on our marine conservation project involves one or two scuba dives per day, depending on the weather. Volunteers will also attend marine life identification lessons, assist with maintaining the boat and diving equipment and take turns to complete tasks related to keeping a remote research base running smoothly. They also visit nearby Moturiki island to conduct environmental lessons.
Incontra lo staff -
Senior Field Management
Michele Comber
Program Manager
Meet Michele, our brilliant program manager in Fiji. She has a lot of travel experience in the US around Europe. She volunteered for one year in Mombasa Kenya on the childcare programme, became Project Manager for three years and worked in South Africa on an under 18's programme.

She loves GVI because ''this job gives me the opportunity to work with people who volunteer from all around the world and being able to work alongside individuals who had the same drive and passion as me, willingness to give up their time, share their skills and knowledge to assist the schools and the community groups we work with.

I have had the honour to work with some amazing partners in different countries who have welcomed me into their communities and let me be a part of their lives, giving me the opportunity to grow and learn. Their strength and their faith and their beliefs that all things can be achieved if you have hope will always stay with me.''
SIGHTSEEING WHILE VOLUNTEERING IN FIJI
FIJI'S CAPITAL, SUVA
Many of GVI's volunteers in Fiji choose to visit the capital of Suva.
If you volunteer with us in Fiji, you'll either be based on the island of Caqalai or in the district of Dawasamu on the main island of Viti Levu. If you're travelling from Caqalai, you'll need to take a boat first, but if you're travelling from Dawasamu you can simply take a bus to Suva.
In Suva you can sample the local cuisine at the many restaurants and shop for souvenirs.
Alternatively, treat yourself to a stay in one of Suva's upmarket hotels, visit the hotel's spa and book beauty therapy sessions and massages.
While in Suva, you can also visit the Fiji Museum. Here, you can learn about the history of Fiji, dating back to 3,700 years by viewing archaeological artefacts that reflect the evolution of Fijian life through the ages.
COCO-I-SUVA RAINFOREST RESERVE
Venture into the Coco-i-Suva rainforest reserve. You can follow a nature trail through tropical foliage and take a dip in one of the many naturally occurring pools complete with waterfalls. Make sure to look out for the numerous bird species that inhabit the protected area.
CORAL COAST RESORTS
Or, you might prefer to take a weekend break at a resort on the Coral Coast of Viti Levu. This stretch of coastline between the city of Suva and the town of Sigatoka is known as one of Fiji's most popular resort destinations.
Here, you can swim in resort pools or relax at the spas. You can also canoe, dive or snorkel off the coast. Some volunteers rather opt to stay at backpacker lodges in the area where they can meet and socialise with other volunteers and international travellers.
WHITE WATER RAFTING
You can also join a group for a white water rafting trip on the Upper Navua River. The river is known for its scenic rock formations, waterfalls and challenging rapids.
THE ISLAND OF OVALAU
By boat from Caqalai, or by ferry from Viti Levu's Natovi landing, you can travel to the island of Ovalau. Here you can visit the former capital of Fiji, the town of Levuka. Book a bus to take you on a scenic journey around the road that encircles the whole island.
THE TOWN OF NADI
You can also travel to the town of Nadi on Viti Levu island. Here, you can visit a botanical garden, at the base of the Sleeping Giant mountain. Take a zip line over the forest which boasts 2,000 species of orchid or visit the Sri Siva Subramaniya temple, a Hindu temple decorated in rainbow-hued figures.
If you'd like to be more active, book a responsible skydiving experience and see the green landscape from a height that will get your heart racing. Flights can also be boarded in Nadi for visits to further away islands including many secluded resorts.
SCARICA LE NOSTRE BROCHURE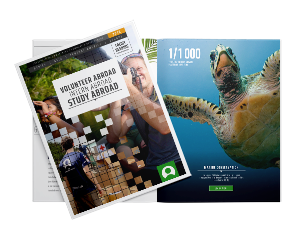 OUR VIDEOS & TESTIMONIALS
While a known passion for protecting our environment is good grounds to start on it can be difficult to figure out what exact [...]
What are green jobs and how can you land one? Read this article to find out.
Are you set on taking a gap year but not sure what to do? Check out these top gap year ideas for inspiration.