Discover the ancient country of Laos when you volunteer with GVI on critical community development projects throughout the city of Luang Prabang
Although tourism has picked up in Laos over recent years, it is still one of the poorest countries in the world and is largely an agricultural country. By volunteering in Laos with GVI, you can contribute to sustainable projects that aim to have a long-term impact on the lives of local community members and their futures.
With project focuses ranging in marine and wildlife conservation, child care, animal care, health care and teaching, there is something for everyone.
Spend your gap year, career break or volunteering holiday exploring a land rich in culture and ornate temples, as you make a difference teaching English to young Buddhist monks or volunteering with children on a variety of childcare initiatives.
Have a look at these 10 Awesome Things To Do In Luang Prabang. If you are aged between 14 and 17 you can look forward to our Under 18's Volunteer and Adventure Experience in Laos. GVI also offerS exciting programs in other Asian countries like Thailand, Nepal and India.
GVI does not support orphanage volunteering. For more information see our stance on orphanage volunteering. We also support ChildSafe, a global child protection initiative, and regularly review our comprehensive Child and Vulnerable Adult Protection policy. All our staff and participants are required to complete a police background check before arrival on the program, and on-site child protection training is provided once they arrive in the host country. We also protect children from cyber and real-world threats by ensuring that our marketing follows child protection best practices.
As part of the policy, participants will be required to complete a DPS check, Police Clearance, or a National Background Check where necessary, and to comply by the policy.
Where Does GVI Work in Laos?
If you volunteer in Laos your world will be changed forever, get ready for a spiritual and life changing experience. Our base is in Luang Prabang, a relaxed town located along the Mekong River.
The fusion of French and Asian culture and charm make for a wonderful setting to experience a unique culture. Help us increase the quality and access to education, enabling the local people to increase their future employment opportunities and improving quality of life for themselves and their families.
The surrounding hills contain traditional villages, waterfalls and other scenic pleasures.
Incontra lo staff -
Senior Field Management
Jill Walker
Deputy Director of Programs
Meet GVI's Jill,also known by her rap name, Rainmaker, or her spiritual name, Field Whisperer. Her journey with GVI began back in 2007 as Thailand's Country Director, where she helped set up GVI's first TEFL program!

Now she is based in Chaing Rai, Thailand. Jill's role involves providing support for all of our programs around the world. Working closing with each base, she looks to identify and manage any issues that occur so GVI are able to offer the best programs possible.
Katie
Field Staff
Meet Katie, a 26-year-old from the US! She is another one of our Field Staff in Laos. It was originally a trip to India which inspired her journey to where she is now. The time spent reflecting on this trip made her realise making a real difference is what she wanted to do and is why she is where she is now.
Molly Plexico
Regional Director for Southeast Asia
Meet Molly, our hard working Regional Director for Southeast Asia. Overseeing operations in 3 countries is no easy task but Molly is more than capable.

Her goal is to visit one country for every year she is alive. The most unusual place she has travelled to is Uzbekistan, on a trip beginning in Europe and ending in Southeast Asia. This is where she fell in love with Laos which began her journey with GVI. She started working for GVI back in 2012 and she is now based in Cambodia.
Incontra lo staff -
In-Country Staff
George
Field Staff
This is George, one of our Field Staff in Laos. His journey to this position has been eventful to say the least. He first became involved with GVI when volunteering back in 2015 after taking a career break. George loved the program so much he returned as an intern, which ended in a job with GVI. We hope that George doesn't want to end his career break anytime soon!
Lizzie
Field Staff
Meet Lizzie! Her background is in conservation and she has previously worked in London Zoo. Her passion for helping others develop is a big driving force for her career with GVI.
Lyly
Community Liaison
This is Lyly. She first found GVI after her brothers and sister came to study English with GVI. Now Lyly is proud to say that she is GVI's first Lao female member of staff!
Valee
Community Liaison
Meet Valee. Valee lives in the mountains and was a Novice in a temple for 7 years. He has worked for GVI for 4 years and since introduced some of his siblings to GVI programs. His role includes teaching and translating for classes, and organising locations for meetings.
SCARICA LE NOSTRE BROCHURE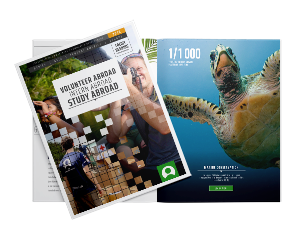 OUR VIDEOS & TESTIMONIALS
Ottieni il massimo dalla tua esperienza di stage. Scopri i vantaggi di uno stage all'estero.
Goal 4 of the United Nations Sustainable Development Goals , Quality Education, feeds into many other goals. Because it affects [...]
Volunteer projects for 2020 have amazing opportunities for your year ahead. Take a look at our top ten volunteer projects [...]