Volunteering in Mexico means experiencing the country for yourself, on a deeper level, and finding out how it's different from the impression you might have from watching series or movies. Mexico has a diverse cultural make-up, and this top travel destination has a lot to offer with attractions too.
Dig your toes into the sandy shores of the Carribean coastline, and sink into the waters of the Riviera Maya. Catch a ferry beyond the coast, and find yourself out where the ocean is dotted with nearly 100 secluded islands. Feel the swaying of the island-bound ferry as it dips between the towering rock structures. Catch a glimpse of coral reefs in the blue clear waters encircling these sheltered islands. When volunteering in Mexico, there'll always be a beach nearby.
But Mexico isn't all beaches, it's made up of many different types of terrains. Get ready to trek through its sun-baked red deserts and canyons, or snake through the thick vegetation of the rainforest. Mexico is also famous for its cenotes. These water-filled sinkholes are the perfect place for an inland swim while surrounded by jungle terrain.
Volunteer opportunities in Mexico offer the chance to experience these exciting attractions while making a positive contribution to global sustainable development goals.
You could choose to volunteer in Mexico on programs focusing on marine conservation. Our marine conservation programs also offer the opportunity to begin, or further, your Professional Association of Diving Instructors (PADI) certification. While volunteering in Mexico, you could earn your PADI Coral Reef Researcher Distinctive Speciality, PADI Open Water Diver, or PADI Advanced Open Water Diver certification.
All our programs are community-led, meaning you'll get to work with GVI's local partners and community members on projects and interact with local people in your day-to-day life. This is a great opportunity to learn more about Mexico first-hand.
Mexico is home to more than 30 World Heritage Sites, which have been set up to preserve Mexico's cultural heritage. Modern Mexicans have preserved many of the cultural practices of their ancestors, and each region has different cultural traditions. The culture of Mexico is as diverse as the types of terrains you'll find here.
Spanish is the most commonly spoken language in Mexico, and while volunteering in Mexico you'll get to listen to, learn and try this language. Being surrounded by the culture and language of Mexico can take your experience to a whole new level while volunteering abroad.
Volunteer work in Mexico means contributing to the United Nations Sustainable Development Goals (UN SDGs). There are a variety of volunteer opportunities in Mexico to choose from, with each one offering a meaningful experience.
Opportunities to volunteer in Mexico
You can choose to take part in our marine conservation expedition and work towards conserving the second largest barrier reef system in the world and by working with our local partners the projects done are instrumental in allowing us to make a sustainable impact while volunteering in Mexico. This means that GVI can make a positive impact that can last long into the future, and be maintained by the local community.
GVI follows a strict child and vulnerable adult protection policy. Because of this, we no longer work with orphanages. Read our stance on orphanage volunteering for more information.
Which types of programs are available when volunteering in Mexico?
Volunteer in marine conservation in Mexico
With Mexico's abundance of marine life, it's the perfect place to learn about marine conservation. Marine conservation volunteer work in Mexico is all about making a positive impact on our oceans, while learning new skills.
For under 18s, there's the opportunity to take part in the PADI diving and marine conservation teen volunteering in Mexico program. Here volunteers can learn about and participate in existing marine conservation projects in the area. They can also gain their PADI Open Water Diver certification by doing the PADI Advanced Open Water and marine conservation teen volunteer program in Mexico. This program offers volunteers who already have their PADI Open Water Diver certification to earn their PADI Advanced Open Water Diver certification as part of their marine conservation program.
You could also earn your PADI Coral Reef Researcher Distinctive Speciality certification, in addition to your PADI Advanced Open Water Diver certification, when you volunteer on the advanced divers marine conservation expedition in Mexico.
Each program can get you skilled up, and participating in marine conservation in a meaningful way. You can take part in these programs from April to October.
Where can I volunteer in Mexico with GVI?
Volunteer in Puerto Morelos
GVI's base camp is in the town of Puerto Morelos, situated on a stretch of the Carribean coastline known as the Riviera Maya. Puerto Morelos is the oldest town on the Mexican Carribean coast.
The Riviera Maya is a top tourist destination, and there are many spots for snorkelling and diving in this area.
While the biggest industry in Puerto Morelos is tourism, fishing comes in a close-second. The fishing trade is essential to the economic well-being of this Mexican community.
Volunteer work in Puerto Morelos focuses on marine conservation. Volunteers assist the local community in planning and implementing sustainable practices aimed at making a positive impact in Puerto Morelos.
This may mean assisting the local community with beach cleans, to reduce environmental pollution. It could also involve volunteers contributing to marine conservation by running environmental awareness workshops with school children and the broader community. Another way that sustainability is promoted is through programs focused on the conservation of the Mesoamerican Barrier Reef System, and other marine life. These programs look to find the balance between the usage and maintenance of natural resources in Puerto Morelos.
Volunteer work in Mexico that's focused on marine conservation has an immediate effect on the Mesoamerican Barrier Reef System, as well as on the well-being of other marine life in the Riviera Maya.
By contributing to sustainable development efforts on land and in the sea, this volunteer work in Mexico can go a long way in contributing to the sustainability of the Puerto Morelos community.
FAQs about volunteering in Mexico
Q: What's the weather like in Mexico?
A: The weather in Puerto Morelos fluctuates little throughout the year with an average annual temperature of 24 degrees Celsius. The warmest months in this temperate climate are June, July and August. Since Mexico is a large country, the weather can vary significantly from one region to the next.
Q: Do I have to speak Spanish to volunteer in Mexico?
A: It's not essential to be fluent in Spanish when volunteering in Mexico. GVI's staff and partners are all able to communicate in English and will provide support before, during and after your volunteer experience. Being able to speak some Spanish when travelling to Mexico will go a long way in assisting you to communicate with local people. This may make your experience more meaningful.
Q: Is it safe to volunteer in Mexico?
A: As with travel to any country, when volunteering in Mexico, volunteers should take the same precautions they would back home. Higher crime rates tend to be concentrated in the bigger cities. Puerto Morelos is a small town where crime is much less of a concern. Volunteers are expected to take reasonable precautions to ensure their own safety when they travel outside of the hub. GVI's staff offer 360 degree support during your stay in Mexico.
Read GVI's health and safety policies here.
Related articles
https://www.gvi-italia.it/blog/the-importance-of-gender-equality-in-mexico/
https://www.gvi-italia.it/blog/four-reasons-why-mexicos-a-treat-for-any-type-of-traveller/
https://www.gvi-italia.it/blog/five-reasons-why-mexico-is-the-perfect-volunteering-destination/
Incontra lo staff -
Senior Field Management
Miguel Angel Lozano
Program Manager
Miguel Angel is GVI's Program Manager for the Marine Conservation Programs at GVI's base in Puerto Morelo, Mexico. He has been with GVI for over a year now and loves it!
He has a background in Oceanography and a fun fact about him is that before GVI, he completed research on Bull Sharks.
Incontra lo staff -
In-Country Staff
Claudia Frederici
Dive Officer
This is Claudia, she is our Dive Officer at the GVI Puerto Morelos base in Mexico. Claudia is originally from Spain and helps out with everything from scientific research to field training at base. She has been a valuable member of our team and is working towards her dream career focused around marine conservation.
Kayla Moore
Science Officer
Meet Kayla,the Science Officer for GVI's base in Puerto Morelo, Mexico. She is originally from Canada where she obtained her Bachelor's Degree in Marine and Freshwater Biology. She was originally a volunteer, when she completed her Dive Masters certificate. After the six months spent doing this, she was kept on as a Staff Member before becoming the Science Officer.
A fun fact about Kayla is that her favorite animals are dolphins, and she recently had the privilege of meeting a few on a dive!
SCARICA LE NOSTRE BROCHURE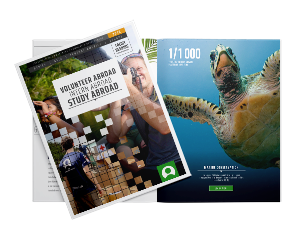 OUR VIDEOS & TESTIMONIALS
While a known passion for protecting our environment is good grounds to start on it can be difficult to figure out what exact [...]
What are green jobs and how can you land one? Read this article to find out.
What's one of the best parts of visiting Latin America? Latin American food culture! Get a taste of what it's all about in [...]