Volunteer in Thailand with GVI and explore its northern and southern regions surrounded by jungle-covered mountains, golden beaches, artfully detailed temples and a diversity of cultures.
By volunteering with GVI in Thailand, you will be directly contributing to the United Nations Sustainable Development Goals (UN SDGs) and will assist local people and organisations to achieve the long-term objectives of each project.
Choose from a variety of projects focused on:
The country's tropical climate ensures that verdant jungle rainforests thrive in Thailand's hilly northern region, while sunny beaches and clear blue waters line its coastal peninsula. As a result, Thailand supports a high level of biodiversity both above and below water. The country supports endangered species such as the Javan Rhinoceros and the Asian elephant, as well as threatened and vulnerable species, including the Hawksbill sea turtle, and Asiatic Black Bear. This provides an array of volunteering opportunities for those interested in conservation.
Join a program in a local Karen cultural village, about an hour's journey from Chiang Mai, to assist GVI staff and local community members with reintegrating elephants into more natural settings. Elephants in Thailand have complex histories of working in the tourism industry. Alongside local mahouts, you will have the opportunity to volunteer with elephants in the area's expansive forest grounds. To maintain the health and safety of these cognitively advanced land animals, elephants in Thailand's Chiang Mai province receive health checks and live in secluded forest territories.
GVI also partners with the local community to support development and empowerment. Through these initiatives, greater economic opportunities are created, resulting in alternative sources of income for the community. This means that local community members won't have to rely on elephants to generate an income. For volunteers and interns, it's an opportunity to immerse themselves in Karen cultural traditions and gain cross-cultural skills.
When you volunteer in Thailand's Phang Nga province you will work alongside local organisations dedicated to the preservation of the region's marine, coastal and island habitats and species. Support the protection of the region's threatened sea turtles, or join projects that support public health and education.
Our badge of ethics represents our commitment to ethical best practice in all of our focus areas, including wildlife and marine conservation, and volunteering with children. We also offer a range of sustainable volunteer programs in other Asian countries like Laos, India and Nepal. Whether you are on your gap year, career break or volunteering holiday, you can contribute to making a sustainable impact.
WHERE CAN I VOLUNTEER IN THAILAND WITH GVI?
GVI operates in two locations in Thailand.
Travel to southern Thailand to live and volunteer in Phang Nga, a province along the Andaman sea. Contribute to conservation projects in a region consisting of mangrove forests, limestone cliffs, white-sanded beaches, and tropical islets. On the weekend, or after your GVI volunteering project, you can visit Ao Phang Nga National Park to learn about the largest mangrove forest in Thailand.
Along with local community members and conservation organisations, GVI works towards marine conservation, environmental awareness and educational enhancement objectives.
If you are looking for a Thailand volunteer experience that combines tropical landscapes with meaningful sustainable development, a GVI program in Phang Nga is the province for you. You'll have the opportunity to assist in preserving sea turtle populations, or gaining experience in teaching or health education.
When you volunteer in Thailand's northern region you will be surrounded by mountainous scenery. You will be living and working with in a traditional Karen village community, a five-hour journey from the city of Chiang Mai into the mountains. Here, you will collaborate with local community members to support wildlife conservation and community development projects. Volunteer with elephants who have previously worked in the tourism industry. You will assist local mahout's and GVI staff to reintegrate the world's largest living land animals into vast territories in nearby forests. Get involved in elephant health checks and learn about the habitats, adaptations and behaviours of Thailand's elephants.
Incontra lo staff -
Senior Field Management
Vanessa Rees
Program Manager
This is Vanessa. Vanessa is originally from the UK and joined GVI back in 2017, when she was completing an Education program in India. Since this volunteering expedition she has worked more closely with GVI and is now the Program Manager at our base in Phang Nga, Thailand.
WHY VOLUNTEER IN THAILAND?
Thailand is one of the most sought-after travel locations in Asia, due to its diversity of cultural traditions, habitats, animals and marine life. By volunteering in Thailand you will be contributing to the preservation of these valuable historic and natural resources. Take a look at some of our main reasons to visit and volunteer in Thailand below.
Tropical climate: If you are looking for a year-round summer, with occasional refreshing rains and seasonal cooling periods, this is the place for you.

Temples: Wherever you decide to volunteer in Thailand you can be sure to come across some of Asia's most opulent, historic, and intricately detailed temples. Visit the sacred golden Wat Phrathat Doi Suthep temple in Chiang Mai, or its older counterpart, Wat Chedi Luang temple, built in the early 15th century. Visiting temples in Thailand is a lesson in the cultural heritage of the country.

Cultural diversity: There are a large variety of ethnic and cultural groups living within Thailand. Volunteering is a great way to learn about the traditions of different cultures as you will be living and working with local community members. You can learn about Theravada Buddhism, a belief system practiced by 90% of the population. Create a habit out of communal dining and removing your shoes before entering an establishment or home, as these are signs of respect. If you join GVI's program near Chiang Mai, you might also learn about the various beliefs prominent in Karen culture, including Buddhism, Christianity, and Animism, a belief system predicated on the concept that everything including inanimate objects are imbued with a spiritual essence.

Cuisine: If you have not already heard about Pad Thai, the country's delicious stir-fried noodle dish, you are in for a treat. This dish has a loyal fanbase in numerous countries around the world. In addition, Thai cuisine features an array of dishes for all palates, from traditional noodle soups to Thai red and green curries, including vegetarian, seafood, and meat options. When you volunteer in Thailand, you will not only get to taste these dishes first-hand but you will also have the opportunity to learn how to cook them yourself from local community members.

Wildlife and Marine life: Volunteering in Thailand means there will be ample opportunity for you to get involved in assisting with the conservation of land and marine life. Support efforts to protect endangered sea turtles along Thailand's coast, or assist with the protection of the endangered Asian elephant in its northern forested region.

Landscapes: The country has an impressive diversity of ecosystems, habitats, and ever-changing landscapes. Landscapes in the south include limestone cliffs, waterfalls and islands, while green humid forests and mountains make up the northern region.


Beaches: There are many reasons for Thailand's thriving tourism industry, and the diverse, tropical, white-sanded, and pebbled beaches are definitely one of them! Volunteering in Thailand is an opportunity to not only enjoy peaceful beach scenery, but to also take up recreational diving along the coast, or simply swim and snorkel in the country's famously warm, clear blue waters. Volunteering in Thailand's Phang Nga province means you will have the opportunity to support island and coastal conservation efforts, such as getting involved in sea turtle conservation or mangrove forest restoration.
PLANNING YOUR VOLUNTEER TRIP TO THAILAND
FIVE THINGS TO ASK BEFORE YOU VOLUNTEER IN THAILAND
Before embarking on your Thailand volunteer journey, there are a few things we would recommend that you ask beforehand.
Q: Which volunteer program focus am I most interested in?
A: GVI offers a range of different volunteering programs in Thailand. Choose from programs focused on marine or wildlife conservation, animal care, teaching, volunteering with children, public health, women's empowerment, or construction.
Q: How ethical is the organisation I have selected? What are the ethical best practices involved in the specific volunteering program I have selected?
A: For over twenty years, GVI has been committed to the highest level of ethical best practice throughout all levels of our organisation. We live by our ten ethical principles and five human empowerment principles. Our badge of ethics represents our dedication to continuously improving our policies, with the assistance of our ethics officers and external experts in their respective fields. Specific policies that apply to our work in Thailand include our stance against orphanage volunteering and donation and our stance concerning how to volunteer ethically with animals.
Q: Do I want to volunteer in Thailand on a short-term or a long-term basis?
A: Volunteer durations range from one week to 24 weeks of participation.
Q: Are there any requirements for my chosen program?
A: No specific qualifications are required for joining a GVI volunteering program in Thailand. To join an adult program you must be at least 18 years of age. IF you are between the ages of 15 and 17 you can join our teen volunteering projects in Thailand. All training specific to the project you have selected is provided on the program itself. All our programs include health and safety and child and vulnerable adult protection training.
Q: Where will my accommodation be?
A: When you volunteer in Thailand's northern region, you will stay about a five-hour drive away from the city of Chiang Mai, in a remote mountain village. In the southern region, accommodation is located in a small village, Ban Nam Khem, 30 minutes away from the famously scenic Khao Lak.
Q: Who will I be volunteering with?
A: GVI volunteers of all ages come from a vast number of countries around the world and have a diverse range of backgrounds. At each location, our international team of GVI staff are there to guide volunteers throughout their stay. Due to the long-term partnerships GVI has established with local partners in Thailand, and many of our other locations around the world, volunteers work closely with local community members. This gives them insight into the local context and allows them to gain experience in intercultural communication.
GVI THAILAND VOLUNTEERING PROGRAMS
Contribute towards United Nations Sustainable Development Goal (UN SDG) 15: Life on Land when you work with elephants in Thailand who have a history of working in the country's tourism industry. You will be assisting local mahouts in contributing to the health, safety, and conservation of these elephants in Thailand's northern jungle forests surrounding Chiang Mai.
The program consists of hiking expeditions where you'll be recording elephant behavioural data, taking note of the elephants' sensory reactions to their environment, food sources, and other elephants. There will also be opportunities to learn how to identify the biodiversity in the area.
While on the program you will be living and working with local community members. This will give you an opportunity to connect with them and learn about their culture.
We always adhere to the highest standards of ethical best practice in international sustainable development and our elephant volunteering program in Thailand is no exception. You can learn more about how to ethically volunteer with elephants.
Join GVI in Thailand's southern province of Phang Nga to participate in endangered sea turtle conservation efforts. GVI partners work with Thailand's Royal Navy to increase sea turtle populations. This is done by helping to raise baby sea turtles up to a size that will allow them to thrive in the wild.
There are also plenty of opportunities to get involved in other coastal conservation projects like conducting plastic cleanups, and encouraging effective waste practices and plastic reduction in the local community. Through environmental awareness workshops, volunteers can also support the community in protecting the environment around them.
Several times during the month, volunteers also travel to two nearby islands and conduct biodiversity surveys and check remote camera traps set up to monitor elusive species. During some parts of the year, volunteers can also get involved in coral reef conservation surveys, conducted while snorkeling, not diving, in the warm waters off Thailand's coast. Volunteers also sometimes get involved in mangrove planting.
By participating in any of these projects, you will be supporting UN SDG 14: Life Below Water and UN SDG 15: Life on Land.
Volunteer with local community youth in Phang Nga to assist with improving their English speaking and writing skills. You will also work with them to improve their fine motor skills, the coordination of small muscles including those of the wrists, hands, fingers, feet and toes. This is also an opportunity to develop your own professional lesson planning and workshop facilitation skills while supporting UN SDG 4: Quality Education.
These programs do not allow volunteers to work with children in residential care. We do not support orphanage volunteering and you can learn more by reading our stance on the topic. All our staff and participants are required to complete a police background check before arrival on the program. We regularly review our comprehensive Child and Vulnerable Adult Protection policy and on-site child protection training is provided once volunteers arrive in their host country. We also protect children from cyber and real-world threats by ensuring that our marketing follows child protection best practices.
This ensures that ethical best practices are upheld to protect all youth involved while empowering local communities.
Contribute towards advancing UN SDG 3: Good Health and Well-Being when you volunteer in Thailand's Phang Nga province. Create awareness of preventative health practices through participating in health education initiatives, in the village of Ban Nam Khem. You will assist local teachers to encourage positive health practices in children and young adults of the province. Contribute to Water, Sanitation, and Hygiene (WASH) workshops. Supporting regular hand washing and other habitual hygiene practices can significantly improve the long-term health of youth and adults.
Travel to a local Karen cultural community six hours from Thailand's city of Chiang Mai to support UN SDG 5: Gender Equality. Here, you will learn about the diversity of cultures as you volunteer alongside participants from around the world. You will also be able to immerse yourself in the local Karen culture while staying with local community members.
Participate in professional development classes for women in the community, learn about traditional cooking methods, and weaving and jewellery making. This is an opportunity to contribute towards English language education and income generating initiatives for all, while also gaining a better understanding of gender roles within the community.
There will also be opportunities to get involved in environmental education projects. You could also learn about elephants and their mahout caretakers during health checks and forest hikes.
SCARICA LE NOSTRE BROCHURE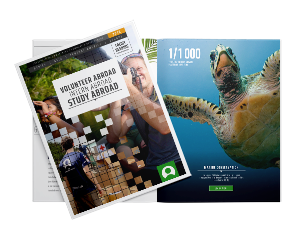 OUR VIDEOS & TESTIMONIALS
Are all types of animal volunteering programs ethical? No. Read this article for advice on how to spot ethical organisations [...]
Is there anything new you could learn about elephants? Take our Elephant Facts quiz to find out!
Volunteer holidays for families can make your time abroad much more meaningful. Read this article for family volunteering [...]