RESPONSIBLE TRAVEL 2.0
The goal of responsible travel is to minimise the negative impact that international visitors might have on a local economy, natural environment, or unique culture. As an sustainable development organisation supported by international contributors, we take responsible travel to a new level of engagement and awareness. We believe in travel that is not only responsible, but empowering. In other words, we think that travel should not simply seek to minimise potential negative impacts of global tourism but to strengthen visited regions through the engagement of international visitors in long-term, locally lead, sustainable development programs, the success of which is measured and reported on regularly.
All GVI programs operate at the invitation, and under the direction of local partner organisations and communities, to ensure they are focused on the most critical local issues and produce the results required locally. All credit and results from our projects remain in-country and belong to our partners.
In addition all objectives of GVI programs are aligned to the 17 United Nations Sustainable Development Goals. All of these Global Goals are focused on local empowerment on a global scale, including objectives such as eradicating extreme poverty, currently measured as people living on less than $1.25 a day, for all people everywhere by 2030.
Our staff and participants around the world contribute to these locally lead programs, but before they do they are provided with training on best practices. They complete training on the UN SDGs, the issues in the region, and how local partners are tackling these challenges. If they'll work with children, they complete training in our Child and Adult Protection policy. They are also provided with clear instructions on how to act in a culturally appropriate manner if they'll be working in a sensitive cultural setting, or how to prevent harm to a local natural environment if they'll be working in a sensitive habitat.
Below highlights ways in which we ensure that we are empowering the people and organisations regions in which we work – ethically, economically, intellectually, environmentally, and culturally.
Ethical Empowerment
We are committed to the welfare of animals both wild and domesticated. We do not support activities that are unnatural for wild animals to perform, and educate local communities and participants about the harm of operators supporting these activities. We support only those captive animal facilities that have passed our rigorous security, proving that their work is in service of long-term conservation efforts.

We are committed to the welfare of children and vulnerable adults. We do not support orphanages or other residential care organisations, we ensure all our participants and staff have passed a police background check, and we take care not to post images of children with identifying factors on our site or other marketing channels.
Economic Empowerment
We actively contribute to in-country skill and knowledge growth by contributing to student education and furthering adult education including women's empowerment programs.

We train local students through our National Scholarship Program. Students join as a GVI intern and receive the same skills, training and qualifications that international interns are afforded. This is part of our commitment to building in-country sustainable development capacity. We are pleased that many of our national scholars have gone on to work for local partner organisations, continuing to work on the most critical local needs.

We train, manage, and pay host-country staff.

Typically, 60 to 70% of all participant contributions go directly to running the local sustainable development project.

The GVI Trust, a registered charity in the United Kingdom, is used as a fundraising vehicle for our local partner organisations to further boost funds. Up until November 2018, we have raised almost £1.8 million through this fundraising channel.

Whenever possible, we use locally owned suppliers, including accommodation, restaurants, grocery stores, farms, transport, and culture or adventure trip providers.
Intellectual Empowerment
All research rights stay in the host country and data remains with host organisations.

We ensure that credit for successful projects remains with local organisations, communities, and individuals.

We actively contribute to adding the data set of local independent research organisations and governments through recruiting the assistance of international staff and participants.

Through our Fellowship program, we make the expertise leading international researchers available to local communities and organisations.
Environmental Empowerment
We use sustainable practices in our project operations where possible, including rainwater harvesting, compost toilets, and solar power.

We recycle in at our locations around the world and run plastic awareness programs.

We make carbon awareness and offsetting initiatives available to participants.

We educate and train local communities in environmental issues and best practices.

We educate and train international participants in environmental issues and best practices.

We actively contribute to ongoing in-country conservation efforts with the help of international staff and participants.
Cultural Empowerment
We provide full pre-departure information and training for participants in local cultural traditions and culturally appropriate behaviour.

We ensure that all participants complete an in-country orientation session in local customs and cultural norms.
OUR STANCE ON SOCIO-POLITICAL FACTORS, ALTRUISM, AND FOREIGN AID
Politics
At GVI, we believe that everyone has the right to their own political beliefs and practices. As an organisation, GVI is apolitical, and we choose not to engage in any form of national or local level political debate, rhetoric, or practice. Similarly, we ask our staff to reserve their own political beliefs and practices for their personal time. We do not invite any form of partisanship into any of our workplace settings, whether this is in an office, on a project with one of our partners, or while engaging with participants after hours.
National and international politics no doubt have integral effects on international development and, occasionally, on GVI's operations. This ranges from potential local political unrest in the countries where GVI is based, to foreign aid politics that influence how GVI can engage with local organisations, to noteworthy political elections in various countries, both western and local. Whatever the case may be, however, GVI staff and participants around the world adapt to whatever situations might arise with our steadfast dedication to health and safety, and to working collaboratively towards sustainable objectives.
We don't engage in politics as an organisation or at an interpersonal level is that it can sometimes prove to be contentious and divisive. As stated above, we believe that everyone is entitled to their own beliefs. In the same vein, everyone is entitled to feel safe, included, and happy. For this reason, we actively avoid heavier topics that could cause some people to feel segregated, unheard, or disrespected due to their political beliefs. If participants do want to engage in healthy political debates, they are welcome to do so in their own personal time while not on project.
Religion
Everyone in this world has the right to their own religious beliefs and practices. As an organisation, GVI is secular. However, we have the utmost respect for the various religions of our staff, local community members, and international participants. Our bases around the world are safe spaces for everyone to interact on an equal, neutral footing. We actively work to maintain the safety and neutrality of our bases, because we believe in the power of cultural exchange, which often includes learning about the religious beliefs and practices of others.
What we do require is respect for all, from everyone. We believe that no single religion is better or more dominant than another, and we promote open mindedness, inclusion, and acceptance . That is part of the beauty of our bases around the world – the fact that people from all religions, ethnicities, gender and sexual identities, etc., can learn from each other in a secure, open setting.
Activism
The word 'activism' has many different connotations to it. As a practice, activism is aimed at bringing about social, economic, or political change, and can be conducted at every level of society. It is a broad spectrum that incorporates varying degrees of disruption and raising awareness. Activist campaigns can range from peaceful acts of provoking new thinking through education and conversation, to extreme acts of destruction and violence.
Activism, on whatever scale, whether condonable or not, continues to play a vital role in global development. This is because those who decide to campaign and activate are looking to bring about change through specific modes of action. When viewed this way, a similarity can be drawn between activism and service abroad. Engaging, in the context of sustainable development, is the act of giving time and energy to contribute to changing a particular situation for the better.
GVI is not an activist organisation, although we may sometimes partner with certain activist organisations towards achieving mutual objectives. We do impactful, educational sustainable development abroad programs that contribute to incremental, sustainable change in localised contexts. GVI plays the role of facilitator and organiser for our stakeholders to engage with one another and with global and local issues, to learn about those issues, and play a part in achieving sustainable project outcomes. We value highly the ethos of 'respect for all', and do not condone activism that is divisive, destructive, violent, or that otherwise causes detriment to any party involved. This includes rioting, destruction of property, hate speech, and incitement to cause harm.
However, we understand and appreciate the part that peaceful, constructive, collaborative activism has to play in international development. We believe that participating abroad can and should sometimes work together with activist campaigns or organisations to achieve certain objectives. When such times arise, the two modes of causing change – activism and service abroad – can work synchronously to achieve heightened levels of awareness and developmental action.
Donations
A hand up, not a hand out – this a deeply held belief in GVI as an organisation, and is a central concept to our Five Empowerment Principles. We work actively to prevent local organisations from growing to need our aid. Instead, we work to ensure that local partners are learning and building their own capacity, so that they may stand on their own two feet in the future.
With this said, donations and monetary funding do have a specific and impactful part to play in the bigger picture of empowerment and project success. Making funds available to use as needed, either immediately for crisis recovery or over a period of time for a development project, can be highly beneficial to local organisations and communities. It does need to be done effectively and ethically. Funding should have very clear and measurable objectives. It should also work within a sustainable framework and according to ethical best practices. In other words, the projects or crisis recovery efforts that are funded through donations should empower the beneficiaries, and not create any dependency on that funding.
For example, funding should be asked for by the community themselves, often for a specific project. It is also important to enable the community to engage with and contribute to the project in a meaningful way. This will ensure that the community owns the project and will continue to use and maintain the final outcome once it is built.
The refugee crisis
There is currently a global refugee crisis due to events that have caused the displacement of 68.5 million people worldwide, according to the UN Refugee Agency (UNHRC). Displaced and refugee people are highly vulnerable people who have often suffered significant psychological trauma. A large number of displaced or refugee people are also currently undergoing hardship due to lack of capacity by host countries to provide basic human needs for all.
GVI has traditionally decided not to create service programs that involve working directly with displaced or refugee people. This is because of such people's high level of vulnerability, and the need for specialised skills, training, or experience when working with them. Sending unskilled and inexperienced participants to work with people who have undergone and may still be going through significant trauma represents a level of risk that GVI cannot mitigate.
However, this is not to say that we will never work with people who have already been resettled in host countries, and are seeking to integrate into their new societies or for new opportunities to develop themselves. Such programs could potentially be something that GVI get involved in the future, although there are currently no plans to do so.
Natural disasters and other world crises
There have been some occasions when GVI has responded to situations of natural disaster or crisis. When a disaster or other crisis strikes an areas wherein we have local operations, we first assess the situation. Then, if it is decided in conjunction with local partners to take action, specific objectives are laid out, best practices are reviewed, and then the work begins to assist in crisis recovery in an ethical, participatory, and integrated way. When it comes to disasters or crises that don't affect our own bases and we can't take direct action to help, we may be able to help with relief or recovery via the GVI Trust, a UK Registered Charity that supports projects and campaigns through monetary donations.
DIVERSITY AND INCLUSION ON GVI PROGRAMS
In everything we do as a sustainable development organisation, we do it through the framework of our Five Empowerment Principles. These principles both guide our decisions and actions, and call on us to constantly develop and improve on our ethics and practices. For more on our commitment to constantly learning and growing our ethical best practices, learn about the Badge of Empowerment.
The concept of diversity and the practice of inclusion is something that is important to GVI. Our own thoughts on diversity and practices that facilitate inclusion are constantly developing, as per our commitment to continuous growth and learning. Because of this,  our stance will evolve as we formalise what we will do to increase diversity and inclusion. Both are absolutely essential for us to reach our mission to build a global network of people united by their passion to make a difference. This is why we are committed to learning, reflecting, and growing around these topics.
Our definitions
We see diversity and inclusion as two separate but interrelated concepts. Diversity is the variety of ethnicities, ages, genders, sexualities, differing physical and mental abilities, linguistic differences, socio-economic or health statuses, and cultural backgrounds, that are represented in a given context. Inclusion, for us, is the active practice of making space for diverse viewpoints and voices in a given context. We hope to build our inclusiveness by developing strategies that will increase accessibility for previously marginalised or underrepresented groups.
Previously marginalised and underrepresented groups
There are many groupings of people who are currently or have been previously unfairly marginalised. There are also groups that have been underrepresented or suffered from unequal power dynamics. These two types of groups are not exclusive from one another, and there is often differing amounts of overlap between marginalisation and lack of representation.
Another factor that we consider important is the economic and social development context within which a person is situated. Marginalisation, disenfranchisement, and underrepresentation are universal issues. A marginalised group in a western country with a more developed economy will have different needs to the same marginalised group in a country that is struggling economically. This consideration also applies to social and political environments and beliefs. A country may have different beliefs around women's empowerment and gender equality than another or might have differing levels of advancement when it comes to LGBTQI+ human rights.
Every person that identifies as being a part of a marginalised or underrepresented group and every group exists within a different context. What this means is that there are many different perspectives and considerations to be had when considering how to increase accessibility to our programs for previously marginalised or underrepresented groups of people. But, it is only in increasing accessibility that we will be able to promote more diversity.
As a start, GVI will focus on supporting people who identify or fall into the following broad groups of previously marginalised or underrepresented people. In the next section, we will define each group and touch on some of the barriers each may face. Then we will talk about how we are trying to break down those barriers.
Underrepresented tertiary education student bodies
These previously underrepresented groups (typically in US and European universities) include students (particularly female and those of non-European descent) in STEM degrees, student-athletes, students with high financial needs, and first generation college or university students. These groups can often require a greater degree of empowerment and financial support.
Ethnic, racial, and religious minority groups
For many of our stakeholders (participants, local community members, employees, etc.) who belong to an ethnic, racial, or religious minority or marginalised group, there can be fear around traveling to countries where they might be ostracized or threatened. These groups include people of African descent, people who practice the religion of Islam, or people from small ethnic groups, such as the Hmong people of Laos in Southeast Asia.
LGBTQI+ community members
People who identify as a part of the LGBTQI+ community include people with differing sexual proclivities, non-binary gender identities, or both. These groups represent a minority group as well and can share the same fear of ostracization and threat as other minority groups who would like to consider traveling, studying, or participating abroad.
People with learning, intellectual, and physical disabilities
There are significant barriers for people with disabilities to travel, study, or participate abroad. This includes people with intellectual disabilities, learning difficulties, and mobility impairments, among others. The people from these groups face many challenges, including accessibility.
Our plan for increasing diversity and inclusion in our participant pool
Our mission includes everyone. There is no room for discrimination or marginalisation when it comes to working towards global sustainable development. This is everyone's world, not just the privileged few. Our belief in collaboration and equal partnerships with all stakeholders and our position as the leaders in ethical best practices in the service abroad sector compels us to find ways to improve diversity and inclusion in our network.
When it comes specifically to the diversity and inclusion of people who would like to go on a GVI program abroad, we would never require anyone to differentiate themselves. We wouldn't ask out of respect for them and because of ethical best practices. However, if someone chooses to let us know that they identify as part of one of the above groups, we try to accommodate their differences and ease their fears wherever possible. One of our promises to all our stakeholders is to provide 360 support, from the moment we get on a call with a participant, through their time on their program, until the moment they leave their program. We are true to this promise and it applies strongly to people who express trepidation or concern for their personal welfare due to their ethnicity, gender identity, etc.
It comes down to finding the right program and place for the person based on their needs as a potentially vulnerable person. We encourage anyone who phones in to ask questions, and we will try to get the right answers that will help us match people to the right program and location. We will go the extra mile to learn and accommodate people with a fear of ostracization or threat to personal safety. We pride ourselves on working to ensure utmost safety and security for all stakeholders.
Beyond using our keen knowledge of local cultures to match people to the right program where they will feel accepted, supported, and safe, we also offer scholarships for the groups we discussed above. These scholarships can be used by members of these groups to improve their access to the global opportunities for learning and growth provided by our programs. Additionally, to support those who have higher financial needs, we have developed a fundraising platform for people to use in raising funds for their GVI program.
Finding the right program relies on having an open and honest conversations between our trustworthy enrolment and support staff, and anyone who wants to join one of our programs. Those conversations will include what GVI can do, and therefore, will do. On those occasions when we cannot find the right program or provide the necessary security or access, we will be open about it. This is in the spirit of transparency, so that the person we simply can't accommodate doesn't need to spend more time on us, but can rather return to searching for the right option for them.
There are big challenges for each group and each individual within those groups, and everyone's experiences are different and will be different. Whether they are an international person who is seeking to join our programs, or a local community member looking to access to opportunities for self-improvement, we do not discriminate. We will do our utmost to collaborate, relate, and support anyone who has the drive to do good for their own lives and the lives of others.
SCARICA LE NOSTRE BROCHURE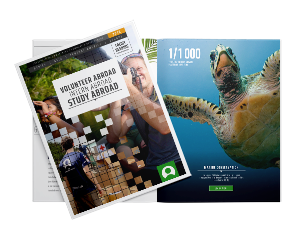 HOW TO BE A RESPONSIBLE TRAVELER WITH GVI
As travelers, it's our responsibility to make sure we support sustainable travel as much as possible. Being a responsible tourist will help support local communities and conservation efforts around the world. Learn more about how you can support sustainable tourism for World Tourism Day.
CAN SHORT-TERM SUSTAINABLE DEVELOPMENT PROGRAMS ABROAD REALLY HAVE AN IMPACT?
Engaging abroad is multi-faceted and there are certain criteria that sustainable development programs need in order to ensure that short stay participants can make the most of their time abroad. At the core of effective short-term sustainable development programs are ethical and sustainable principles that put local communities first.
FIVE FUN WAYS TO TRAVEL RESPONSIBLY IN PERU
Being a responsible traveler means focusing on having a positive impact on the people, wildlife and the places we visit, all while having fun along the way. Here is our guide of five fun ways to travel responsibly in Peru while having a positive impact on the people and places you visit.